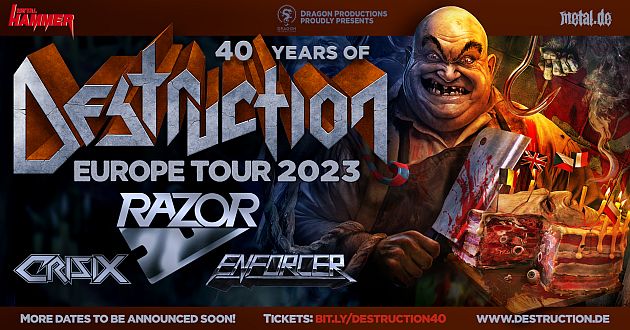 Alte Spinnerei, Glauchau, Germany
30th October 2023
Destruction - "40 Years of Destruction - Europe Tour 2023" - Support: Razor, Enforcer, Crisix

German Thrash Metal giants celebrate a milestone in Heavy Metal history! Dragon Productions are proud to announce the eagerly awaited 40th anniversary tour of German Thrash icons DESTRUCTION. This monumental tour marks a significant milestone in the band's career and as the anniversary draws a lot of attention in the Heavy Metal scene worldwide. With shows in the UK, Germany, Czech Republic, France, Belgium, the Netherlands and soon more countries, this tour promises to be a legendary and unforgettable experience for all metalheads.
Schmier, DESTRUCTION vocalist / bassist, shares his excitement, saying: "This 40th anniversary tour is undoubtedly an important milestone in my career! It's still special for me to be performing and touring after all these years. When I started the band, we couldn't imagine that we would come this far, create such a legacy and go on for so long. It's a great gift that I want to share with our fans on this European tour! Music is magic, and THRASH Metal is my lifeblood!"
The line-up for these special anniversary shows is nothing short of extraordinary. Canadian Thrash Metal masters RAZOR, whose roots also lie in the 80s, join the German thrashers on this important journey and form the spearhead of this very strong line-up. Schmier adds: "I will never forget the first time I heard their song 'Take This Torch' - the song is a celebration for any thrasher and a part of my youth!" The Swedish cult Metal band ENFORCER with their driving old school Metal influenced by the classic NWOBHM complete the billing perfectly. The North Europeans bring the important portion of variety to this top-class billing, which is also emphasized by DESTRUCTION leader Schmier, who grew up with this kind of Metal and likes the band very much. The energetic Spanish ultra-thrashers CRISIX complete the strong tour package and present the new wild generation that impresses with their virtuosic and explosive live performances. Be there early enough not to miss this great opener!
DESTRUCTION has developed into an intense and extremely tight live formation over the years. Schmier proudly announces: "For me there is no doubt. DESTRUCTION have become a very intense live band. The many years on tour and especially the difficult times have shaped us and made us stronger! We have grown together into a sworn unit. The setlist will be packed with highlights - ONLY KILLER - NO FILLER! Our 40-year heritage gives us so many strong Thrash anthems to choose from Celebrating our history and tradition with our fans will be another highlight of our long career, don't miss it - see you in the pit!" The "40 Years of DESTRUCTION" tour shows: THRASH METAL IS ALIVE - the scene has survived all trends and influenced generations of young musicians. Secure your tickets for this live experience and be there when it says: THRASH TILL DEATH!
Additional Concert Info

Doors: 18:00
Start: 19:00
Tickets: can be bought for 40.05 + charges (pre-sale) via
Eventim
Info: https://www.altespinnerei.de/index.php/veranstaltungen/event/0/8-konzert/100-destruction-40-years-of-destruction-europe-tour-2023-30-10-2023
Bands: https://www.destruction.de / https://razorband.com / https://www.enforcerofficial.com / https://www.crisixband.com
Facebook Event: https://www.facebook.com/events/570927925219959
See also (all categories):