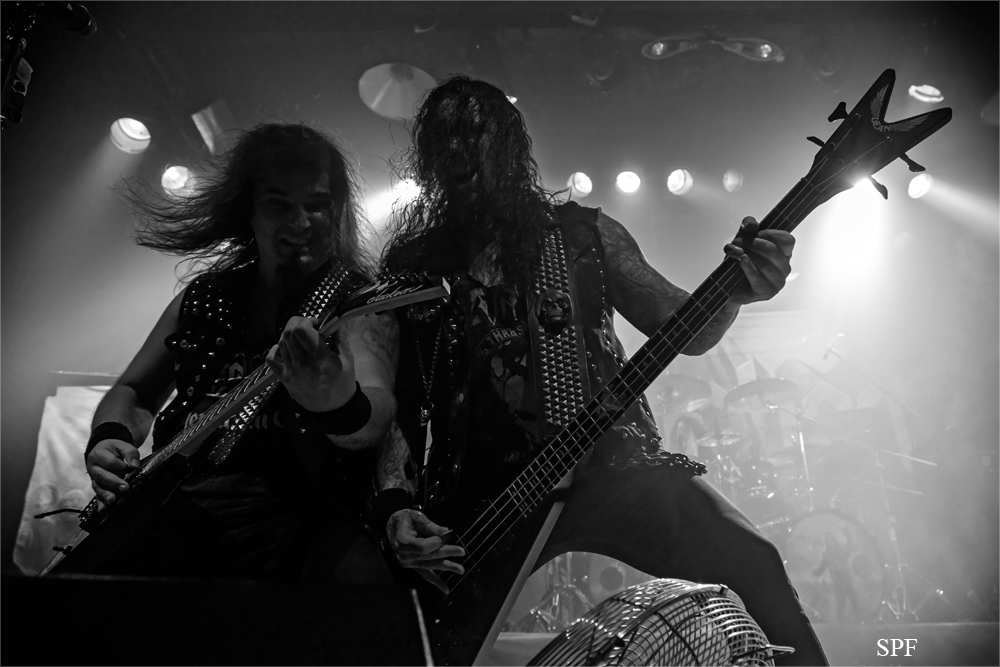 Alte Spinnerei, Glauchau, Germany
30th October 2023
Destruction - "40 Years Of Destruction - Europe Tour 2023" - Support: Whiplash, Enforcer, Crisix

WOW! What a brilliant Thrash Metal concert evening in the Alte Spinnerei Glauchau. I haven't been in the location for a while and the stage has changed in the meantime. Some improvements have been made. The PA on the left and right of the stage now hangs from the ceiling on steel cables and this gives the stage more width. The light setup has also been improved. Overall, the stage has been well redesigned. A nice setup with which the audience can continue to enjoy many live events in the Alte Spinnerei Glauchau in the future.
Crisix
CRISIX from Barcelona opened the evening and pushed the accelerator to the limit. And nothing changed about that throughout the evening. That's exactly how it has to be when you're a guest at a concert on the 40 years of DERSTRUCTION anniversary tour. 4 decades, 4 bands. With their classic Trash Metal sound, CRISIX quickly got the fans on their side. A really nice opener for the evening.
https://www.crisixband.com
Enforcer
Afterwards, ENFORCER from Sweden took over the stage and things continued at the same pace. The boys worked hard on stage and left a few litters of sweat in the Alte Spinnerei!
https://www.enforcerofficial.com
Whiplash
All fans were already at their best when WHIPLASH took the stage.
https://www.officialwhiplash.com
Destruction
Finally it was time for the evening's headliner, DESTRUCTION. Rightly a Thrash Metal legend. The fans still had to get everything out of themselves and activate their last energy reserves. But it was worth it. DESTRUCTION delivered a great set as the crowning conclusion and, like the bands before them, was celebrated by the fans. With the 4 bands they put together a line-up where every Metal fan got their money's worth. This concert evening was a blast! I'm glad that the Alte Spinnerei is still standing!
https://www.destruction.de
All Pictures by Silvio Pfeifer
See also (all categories):