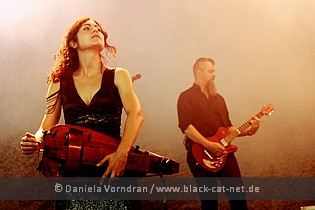 Amphitheater, Gelsenkirchen, Germany
25th & 26th June 2011
Blackfield Festival 2011 Day 2: Schandmaul, Eisbrecher, Combichrist, Letzte Instanz, Assemblage 23, A Life Divided, Reaper, Sono, Stahlmann, Blitzmaschine

After the first festival day was rather cold and rainy, the second one was just the opposite. It was war, nearly hot even, and the sun was shining. So, the mood within the audience was much better. Instead of rain clothes and a sea of umbrellas, you saw people wearing t-shirt and shorts. Umbrellas were just used to protect from the sun, and not from the rain. Even before the first band, BLITZMASCHINE, entered the stage, STAHLMANN were there for the first signing session of the day and a lot of people were there for signatures and pics with the band…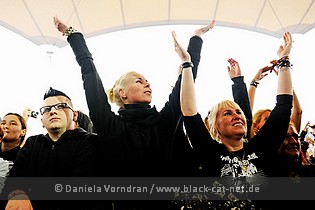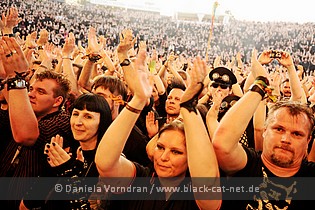 Blitzmaschine [J. "Niggels" Uhlenbruch]

Early NITZER EBB and D.A.F. are very obviously the main influences of the duo BLITZMASCHINE. Maybe as a result of the financial crisis these two money brokers from Hamburg, Germany, were looking for a new field of activity in 2009 and decided it was about time to appreciate their mutual passion for Electronic Body Music. The first result was the album 'Faustrecht', released this March on DAS ICH's Danse Macabre label. www.blitzmaschine.com / www.myspace.com/blitzmaschine

Music & Performance
EBM breakfast with BLITZMASCHINE! After a long (and rough!) party night to keep our seats and have something to eat first. A pity as BLITZMASCHINE's music does not just invite to dance to it, it seems almost de rigueur to move your body to their music to enjoy it. But high noon felt like 7 o' clock in the morning on day two of the Blackfield, if you know what I mean… Starting with a cover version of DAF's 'Liebe auf den ersten Blick' it was clear where BLITZMASCHINE are heading and were their got their main influences from. A slightly updated version of classic EBM, or "EBM for the middle class" as the two band members named their sound wryly.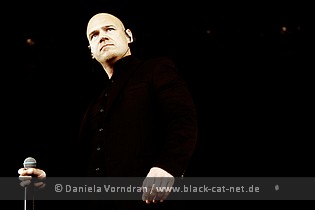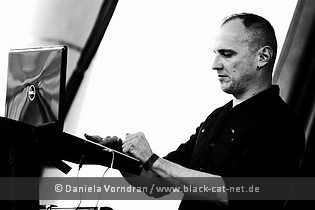 There've been lots of bands emerging with a similar sound recently - just think of JÄGER 90 and the many acts of the Electric Tremor label - so BLITZMASCHINE hardly offer something new, even though their version of old school EBM sounds a bit more modern and more polished than most of their competitors. I've loved this kind of sound since the 1980s but at noon in daylight the emptiest reprise did not exactly rock my boat, I have to admit. Seen it before, heard it before, but thanks for an EBM breakfast anyway. By the way, BLITZMASCHINE's shirt for 'Blondes Mädchen' became quite popular at the Blackfield obviously, as I saw a couple of girls with it later on.

Setlist
01. Liebe auf den ersten Blick
02. Useless pain
03. Blondes Mädchen
04. Do not
05. Kämpf´ um mich
06. Vorwärts
07. Blute jetzt!

Rating
Music: 7
Performance: 7
Sound: 9
Light: (daylight)
Total: 7.2 / 10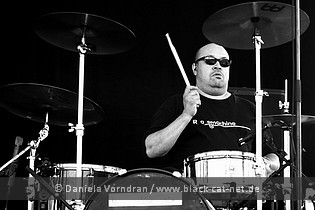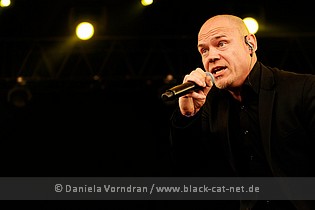 Stahlmann [J. "Niggels" Uhlenbruch]

"Neue Deutsche Härte" (New German Heaviness) is a label which German media found to pigeonhole RAMMSTEIN and similar synthesized Rock/Metal acts with German lyrics and a rough macho attitude. It's a label which suits STAHLMANN as well. Founded in 2008, STAHLMANN gained some popularity by touring with acts like SALTATIO MORTIS, DORO, and IN EXTREMO and in a little more than two years the German trio already released an EP, two singles and the self-titled debut album followed by a tour with EISBRECHER. STAHLMANN is Mart (vocals, programming), Alex (guitars), Tobi (guitar), O-Lee (drums), and Dirk (bass). www.stahlmann.tv / www.myspace.com/stahlmannmusik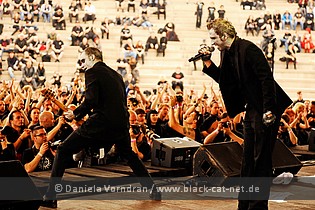 Music & Performance
If you missed OOMPH! and DIE KRUPPS in the early 1990s, RAMMSTEIN in the late 1990s, and MEGAHERZ and EISBRECHER in the first decade of the new millennium, then you might think that STAHLMANN is a very original band. Actually the only original thing about their performance at the Blackfield was the silver body paintings of the band members. So the only things with which STAHLMANN have a chance to satisfy the long-time music lovers are their songs and their stage presence. And they actually score a few points here! The amphitheatre began to get a little more crowded when STAHLMANN started, and singer Mart did his best to involve the audience and get them going. Their songs are straight and catchy but in the end STAHLMANN probably should stop being mere copycats if they would like to be taken more serious as artists.

Setlist
01. Willkommen
02. Marschieren
03. Stahlmann
04. Kaltes Herz
05. Göttin
06. Hass mich… Lieb mich
07. Herzschlag
08. Teufel

Rating
Music: 6
Performance: 8
Sound: 9
Light: (daylight)
Total: 7.5 / 10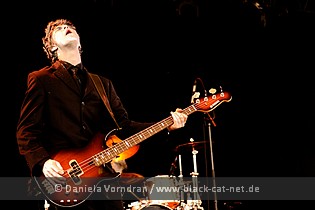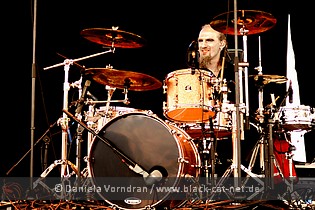 Sono [Sebastian Huhn]

SONO's first single 'Keep Control' became a hit in Germany and even in the American billboard charts where the single stayed for six weeks. 'Keep Control' was also the first German hit ever, which was awarded with the title "Track of the Year". With their first album 'Solid State' - which also became a great success they also attracted the attention of people from the most different scenes and was also an indicator for the variety - SONO provided that they are not limited to a specific scene or genre. The second album is called 'Off' and was released in October 2005. The third album with the title 'Panoramic View' has been released in October 2007 followed by the fourth one 'Plus' in 2009. SONO are Lennart A. Salomon (vocals, guitars, writing, production), Florian Sikorski (keyboards, writing, production) and Martin Weiland (keyboards, writing, production, DJ). http://www.sono.fm/ / http://www.myspace.com/sonomusic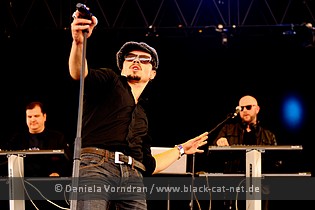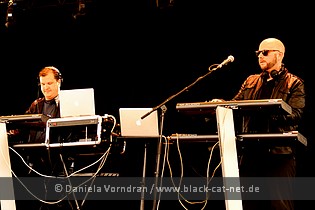 Music & Performance
Last year they couldn't make it due to a full closure of the highway. After a long year on the road SONO now finally made their way to play for the crowd at Blackfield festival on this luckily sunny Sunday afternoon. They started it all with a classic track '2000 Guns' and one or another would start singing the catchy lyrics of the song along. At this early point I couldn't see anyone dancing yet, but there was still plenty of time and music to do that, for instance with the following 'All Those City Lights' and its guitar incursions, as well as the poppy chorus or 'Blame', whereas I'm finding Lennart's vocal acrobatics on this one far more interesting than the rather chilly atmosphere of the track itself. 'A New Cage' is always a pleasure to watch live, especially for its extended instrumental section, the guitar intricacies.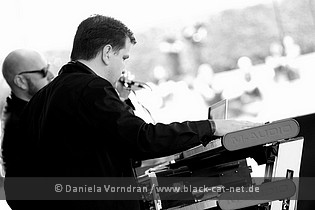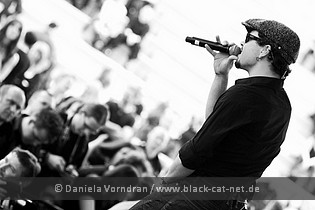 Time flew very fast with their music and sooner than you know you're seeing yourself confronted with the end, made by 'Keep Control'. SONO delivered impressively at the festival, even though their music might not be suitable for this kind of festival on a fleeting glance.

Setlist
01. 2000 Guns
02. All Those City Lights
03. What You Do
04. Blame
05. A New Cage
06. Open The Door
07. Better
08. Keep Control

Rating
Music: 9
Performance: 8
Sound: 8
Light: - (daylight)
Total: 8.5 / 10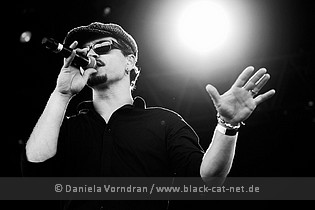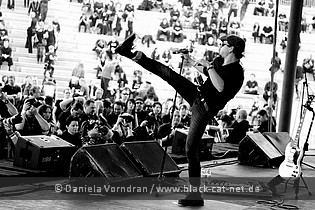 Reaper [J. "Niggels" Uhlenbruch]

Besides his Synth Pop / Future Pop adventures with FROZEN PLASMA and the now defunct NAMNAMBULU, hardworking producer and musician Vasi Vallis also started his Industrial / Techno project REAPER in 2005. While enjoying quite some success with FROZEN PLASMA; Vasi Vallis' side-project REAPER also spawned a few club hits like 'She Is A Devil and A Whore' and 'Robuste Maschine'. REAPER live on stage is Vasi Vallis (vocals, keyboards), Gregor (keyboards), Se Hur-Gorden (guitars) who was sick and could not attend the Blackfield show, and Alisha Destiny (drums). www.reaper-music.de / www.myspace.com/reapermusic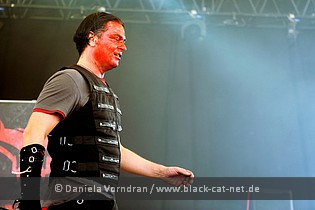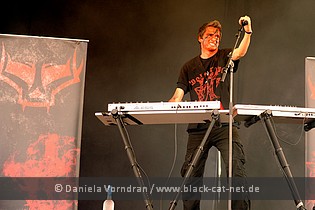 Music & Performance
It was the second gig at the Blackfield festival for REAPER after their first appearance in 2008. I remember their show back then as one of the loudest of that weekend and REAPER were not going to be less boisterous this time. The line-up has changed though, with Gorden playing the guitar and Alisha Destiny behind the drum kit as additional musicians, both sadly were not present at the festival. Musically REAPER did not offer any rest for the weary and kicked off with 'The Devil Is Female' and the energy level on maximum from the start. Beats, beats, beats, that's REAPER's recipe for a merciless in-yer-face performance, but on the other hand they seem fairly unconcerned in terms of variety. Be it 'Twisted Trophy Hunter' or the unavoidable 'Robuste Machine', it's always four to the floor, and while the REAPER fans danced their asses off in front of the stage some older gentlemen probably wondered why people call old-fashioned Techno "Industrial" as soon as you add distortion and somewhat "evil" vocal samples.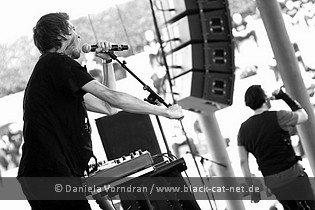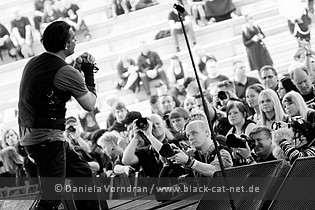 Anyway, it's easy to stay in the rhythm at a REAPER gig, and at least guest vocalist Javi Ssagittar of TERROLOKAUST provided a change with his appearance for the Spanish version of REAPER's latest single 'Dirty Cash'. With the club anthem 'She Is A Devil and A Whore' REAPER finished their set and I had to admit to myself that REAPER is simply not my cup of tea. For good reasons!

Setlist
01. The devil is female
02. Twisted trophy hunter
03. Execution of your mind
04. It's your game
05. Robuste Maschine
06. Dirty cash (Spanish Version with guest singer Javi Ssagittar of Terrolokaust)
07. She is a devil and a whore

Rating
Music: 5
Performance: 6
Sound: 9
Light: (daylight)
Total: 6 / 10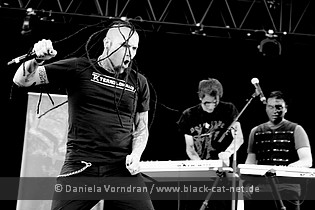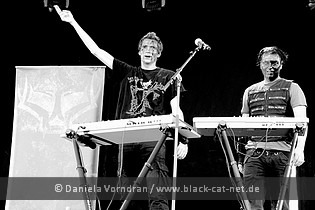 A Life Divided [Sebastian Huhn]

The formation of A LIFE DIVIDED dates back already 8 years. Initially rooted in the prog rock dimension the project's style underwent significant changes in the years to come, incorporating various elements and different styles. 'Virtualized' and 'Far' were the only releases to get from the band until in 2011 there finally was the new album out with 'Passenger'. A LIFE DIVIDED is Jürgen Plangger (vocals), Korl Fuhrmann (drums), Tobi Egger (bass), Mike Hofstätter (guitar), Tony Berger (guitar) and Erik Damköhler (programming, keyboard, guitar). http://www.a-life-divided.de/ / www.myspace.com/alifedivided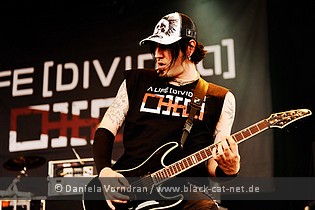 Music & Performance
Before Jürgen Plangger would take on his role as guitarist of EISBRECHER later that day, he'd be on stage as the front man of his own band A LIFE DIVIDED who deliver a softer but not less powerful style of atmospheric rock music that hooked you up immediately, especially the band's fans coming to the festival. The show began with a blistering start with 'Change' before 'Words' brought us a kind of nexus between harshness and deep melancholy with a rousing chorus. While other bands tend to be looking like nailed to a specific spot the band around Plangger hardly ever stood still and demonstrated they're more committed to the rock than the electronic and not only made themselves sweat but the audience just as well. The end came quicker than expected with the band's current hit 'Heart On Fire' and I suppose they set many people's hearts on fire this day.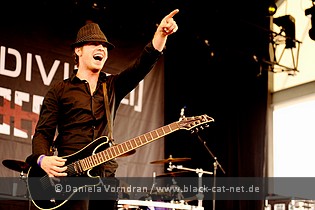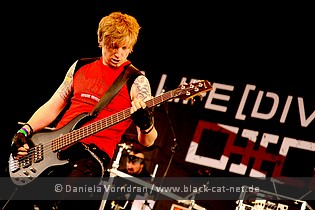 Setlist
01. Change
02. Words
03. Doesn't Count
04. Other Side
05. Anyone
06. Sounds Like A Melody (Alphaville Cover)
07. Hey You
08. Heart On Fire

Rating
Music: 7
Performance: 7
Sound: 8
Light: - (daylight)
Total: 7.2 / 10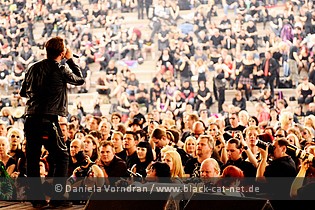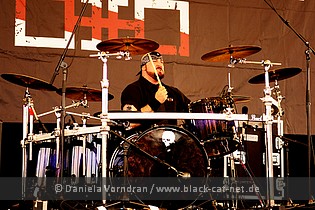 Assemblage 23 [Sebastian Huhn]

ASSEMBLAGE 23 was officially born in 1988, after Tom Shear experienced the industrial dance music played by an opening DJ for DEPECHE MODE. At that time Shear already had musical experiences with his instrumental project MAN ON THE STAGE, by playing bass in a punk/rock band and working on synth pop tracks as well. It took some time for him to gather enough acclaim to attract the attention of a record label. In 1999, he signed with the Canadian Gashed label to release the two albums 'Contempt' and 'Failure', also released in Europe through Accession Records. After falling out with Gashed, he signed with Metropolis Records, which re-released the first two albums. The next regular album was 'Defiance' in October 2002, preceded by the single 'Document'. The follow-up 'Storm' received mixed reactions from the fans. This was to change a few years later with 'Meta', his fifth and most diverse album to date, released in 2007 and followed by 'Compass' put out in 2009. The next strike is already in the pipeline with the album 'Bruise'. ASSEMBLAGE 23 is Tom Shear (vocals, lyrics, music) and Paul Seegers (live keys). http://www.assemblage23.com/ / http://www.myspace.com/officialassemblage23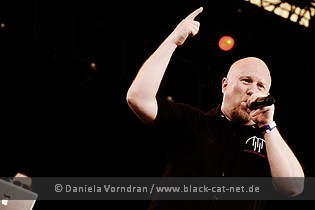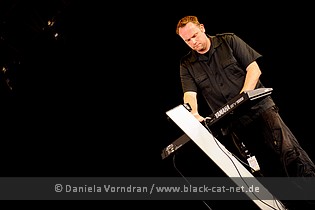 Music & Performance
ASSEMBLAGE 23 filled in on short notice for ROTERSAND who were actually going to play this slot, but couldn't be there due to serious health issues of front man Rasc. Caused also by that fact was a different stage setting for A23 since Paul Seegers had to return to USA. So, keyboarders on stage were Albert Code (Spain DJ) and Jens Domgören (X-Divide). Since I like what Tom was doing on record I hoped to get some of that feeling back on stage, he shared with the two keyboarders, one of which being our festival host Jens. It turns out that my hopes were in vein and while I found approval in the eyes of some other people around, a big part of the audience actually liked it, maybe for the majority of danceable bats on songs like 'Naked' or 'Drive', which is actually one of my favourite songs. The thing marring it all for me was him sounding constantly as if he was running out of air, ruining the song's moods completely. The fact Tom kept moving all the time and obviously had a lot of fun performing didn't make it better for me. So when the show ended with 'Disappoint' I thought I'd stick with the records.

Setlist
01. Naked
02. Opened
03. Drive
04. Alive
05. Impermanence
06. Let me be you Armor
07. Document
08. Let the wind erase me
09. Disappoint

Rating
Music: 7
Performance: 4
Sound: 7
Light: - (daylight
Total: 5.9 / 10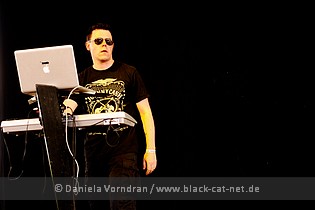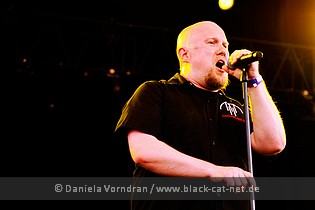 Letzte Instanz [Sebastian Huhn]

LETZTE INSTANZ was founded in 1996 in Dresden. After they approached some labels under the former name RESISTANCE they signed a record deal with the label Costbar and recorded their first songs which are included on the first album. Later the band then changed their name to LETZTE INSTANZ. Before they even released their second album, singer Hörbi and bass player Kaspar left the band. Sebastian Lohse aka Robin Sohn and Rasta F. took over as singer and bass player. After the release of their fourth album 'Götter auf Abruf', again three members of the band (incl. the singer) left the band. With him a new era began for LETZTE INSTANZ which culminated in the 2010 release of 'Heilig', the second album of a trilogy started with 'Schuldig'. LETZTE INSTANZ is Holly (vocals), M. Stolz (violin), B. Cellini (cello), Oli (guitar), Holly D. (guitar), Micha (bass) and David Pätsch (drums). http://www.letzte-instanz.de/ / http://www.myspace.com/letzteinstanz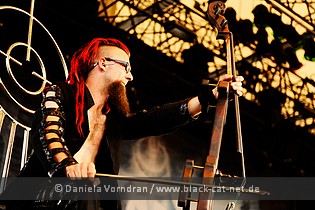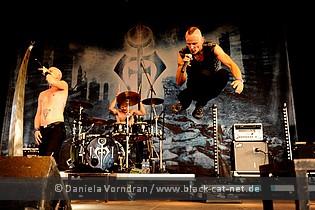 Music & Performance
Something you could never say at any time bout LETZTE INSTANZ, either you liked their music or not, is that they were a bad live band. At their Blackfield show they proved once more they're capable of handling nearly every audience. The dark intro of the show seemed kind of displaced in the sunshine at the time, but the following 'Dein Gott' with the band completely going berserk on stage was just the right thing for the numerous people in front of the stage and on the ranks, even at that particular moment they were just spectators of a spectacle that found its continuation with 'Neue Helden'.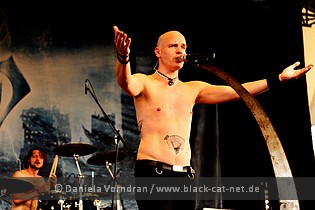 But as it is common with performances of LETZTE INSTANZ, the audience never remains in the position of an observer for very long. Sooner or later, Holly would address them to give them instructions what to do on the next song, may it be putting the hands on their neighbours shoulder to jump around like mad, or the collective singing on the mandatory ending point 'Wir Sind Allein' (We are alone). I just thought that one worked way better in a closed environment or under night skies. The atmosphere of that particular time of the day matches the song's mood just way better. Anyway, they laid down another splendid show at Blackfield festival.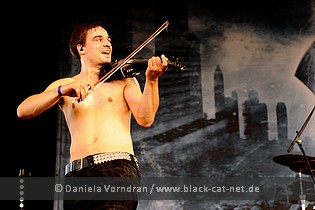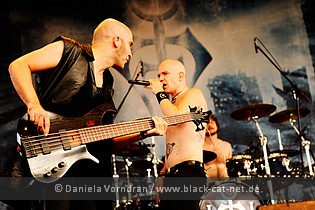 Setlist
01. Intro & Dein Gott
02. Neue Helden
03. Komm!
04. Der Garten
05. Flucht ins Glück
06. Tanz
07. Ohne Dich
08. Der letzte Tag
09. Finsternis
10. Wir sind allein

Rating
Music: 7
Performance: 9
Sound: 8
Light: - (daylight)
Total: 7.9 / 10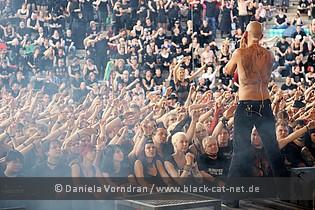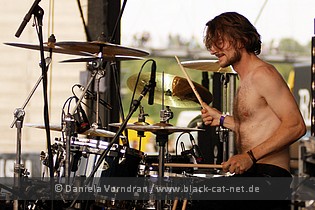 Combichrist [Sebastian Huhn]

COMBICHRIST is one of the other faces of well-known singer and ICON OF COIL mastermind Andy LaPlegua who's presenting a much more hard-edged side of industrial with this project. The two first releases, the album 'The Joy of Gunz' and the limited Halloween special 'Kiss the Blade' both being released in 2003, conquered the clubs and dance floors in a storm. Only a year later Andy unleashed the next assault entitled 'Sex, Drogen und Industrial' which marks a change in the sound of COMBICHRIST to more electro and less distortion dominated sounds, yet the tracks remained as energetic as ever. In Spring 2005 it was finally time for the new album 'Everybody Hates You'.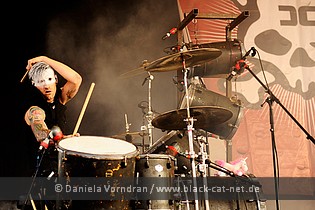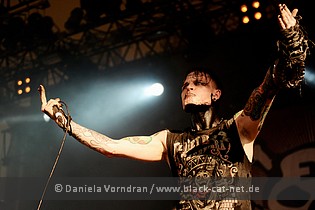 2006 saw the release of a new EP that even took the project to the Hot Dance Billboard Charts and as Andy is a workaholic, he released the next album 'What The F*&$ Is Wrong With You People?' in March 2007. Right in time for the summer, Andy released the 'Frost EP' at the end of June 2008 with new tracks as well as remixes. The most recent album is called 'Making Monsters' and came out in 2010. COMBICHRIST is Andy LaPlegua (vocals, lyrics, production), Joe Letz (live drums), Trevor Friedrich (live percussions), z_marr (live keys, synths) and Abbey Nex (guitar). http://www.combichrist.com/ / http://www.myspace.com/combichrist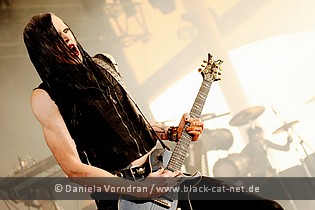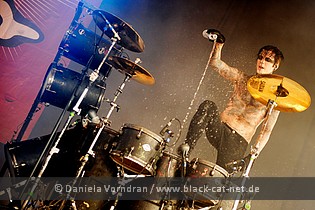 Music & Performance
I expected nothing less from COMBICHRIST cause as a friend righteously put it "Compared to this other band's shows are just child's play". Everything just started out so good with 'Shut Up And Swallow' that just made hell break loose on the amphitheatre and the devils run free on stage where Andy LaPlegua covered with war paintings gave the photographers countless reasons to keep their fingers on the trigger permanently and Joe Letz did his best again to keep the stagehand busy. Furthermore, now there is also a guitarist on stage. It all could have been so great if it weren't for the technical problems after 'Follow The Trail of Blood'. Severe problems with the backing tracks I suppose and noises that shouldn't be there at all. Andy tried to cover it with "Can't remember writing that song" but all humour was lost I think when it still wouldn't work a few minutes later.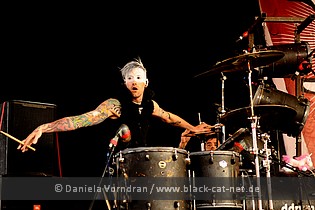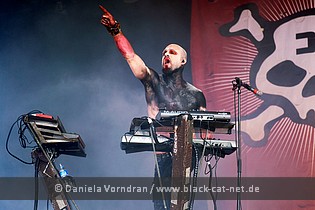 So the band would go with some improvising on 'Deathbed' and 'Fuck That Shit', but it all wouldn't help in the end with the show getting discontinued eventually. How Andy commented… "even though we have a guitar player now, we're still an industrial band". You can imagine how the crowd took that. If those were self-imposed problems or not I don't know. I just expected them to have something like a plan B. I mean it's not like OMBICHRIST is just around since yesterday. A rather disappointing end to my second festival day, even though the show started off so good.

Setlist
01. Shut Up And Swallow
02. Today I Woke To The Rain of Blood
03. Follow The Trail of Blood
04. Deathbed ("unplugged")
05. Fuck That Shit ("unplugged")

Rating
Music: 7
Performance: 6
Sound: 6
Light: - (daylight)
Total: 6.5 / 10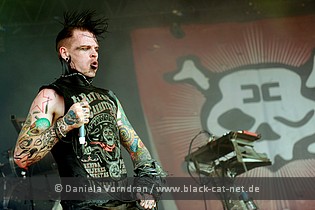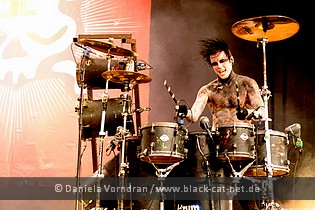 Eisbrecher [J. "Niggels" Uhlenbruch]

After leaving his former band MEGAHERZ, vocalist Alexander Wesselsky founded EISBRECHER together with producer and guitarist Noel Pix, which he knew already from several MEGAHERZ productions. Similarly to MEGAHERZ Wesselsky's new outlet combined simple but heavy guitars, some electronics, straight and commanding rhythms, dark male vocals and lyrics about the dark side of love and life, including many references to military and naval themes and puns on "ice" terms, quite aptly for a band whose name translates to "icebreaker". The genre is "Neue Deutsche Härte" again, see STAHLMANN above. With their second album, 'Antikörper' from 2006, EISBRECHER managed to enter the German Top 100 and since then the band glories in increasing national success. Internationally EISBRECHER is also building up a reputation, as successful tours in Austria, Russia, the Netherlands and Switzerland proved. Their latest album, 'Eiszeit', peaked at #5 in the German chart and reached a noticeable #25 in the Euro Charts. EISBRECHER is Alexx Wesselsky (vocals), Noel Pix (lead guitar), Jürgen Plangger (rhythm guitar), Dominik Palmer (bass guitar), and Achim Färber (drums and percussion). www.eis-brecher.com / www.myspace.com/eisbrecherkommando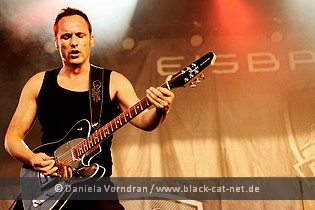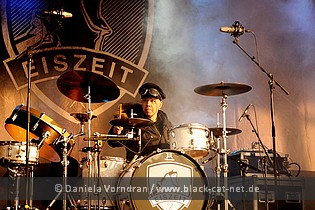 Music & Performance
Although EISBRECHER treat the same musical field as STAHLMANN (see above) they do something right that STAHLMANN didn't. Well, to be fair, EISBRECHER have more experience and a longer career behind them and had a much bigger crowd in front of them at the Blackfield. Factors which make things easier, for sure. Entering the stage in winter coats and with fur caps as if they were about to embark on an arctic mission, they let the opener 'Eiszeit' resound loudly in the round of the amphitheatre. Perhaps a song called 'Ice Age' demands such a winter-outfit but last but not least because of the warm weather on the second day of the Blackfield the band got rid of their warm clothes before the second song already. Interestingly, singer Wesselsky had a special assistant for his (many) changes of clothes. Wesselsky is obviously a bit narcissistic and self-admiring but thankfully he does it with tongue in cheek and some charm. For a band full of machismo and Rock poses it's not the worst thing when the singer is a little show-off.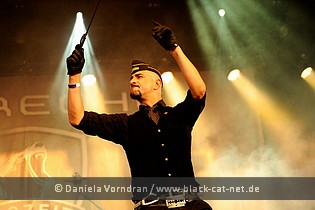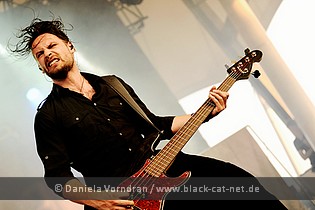 Musically EISBRECHER was to the point, very professional and quite focussed, although they never forget about plain fun. EISBRECHER apparently enjoyed themselves on stage and this translated onto the audience. Smashers like 'Schwarze Witwe', 'Angst' or 'Vergissmeinnicht' delivered the banging soundtrack for the big party. With the song 'Amok' the undoubtedly most impressive moment of the show came: Noel Pix, Jürgen Plangger, Dominik Palmer and Achim Färber abandoned their standard instruments and stood behind oil drums with Wesselsky in their middle, and EISBRECHER delivered a very energetic, banging performance of this song from their last album 'Eiszeit'. Now, that's what I call a change! For 'This is Deutsch', Wesselsky dressed in Bavarian gown to perform this ironic song about clichés about Germany and the Germans, and with MEGAHERZ' 'Miststück' EISBRECHER finished their storming set. To the playback of Bonny Tyler's cheesy pop tune 'Total Eclipse Of The Heart' the band waved goodbye to their fans handing out some roses to the girls in front rows - another self-ironic dig which showed, that a band full of machismo like EISBRECHER don't take themselves too serious.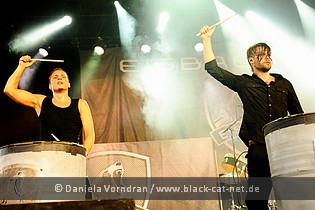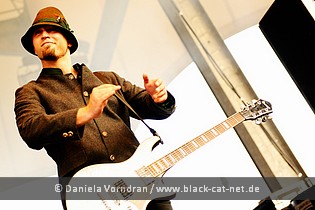 Some people probably see EISBRECHER as some sort of RAMMSTEIN light but with this show they proved that they are a great live band in their own right. A very professional and captivating show!

Setlist
01. Eiszeit
02. Willkommen im Nichts
03. Angst
04. Leider
05. Heilig
06. Schwarze Witwe
07. Die Engel
08. Vergissmeinnicht
09. Amok
10. This is deutsch
11. Misstück
12. Outro: Total eclipse of the heart

Rating
Music: 7
Performance: 9
Sound: 9
Light: 8
Total: 8.2 / 10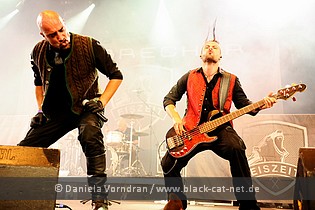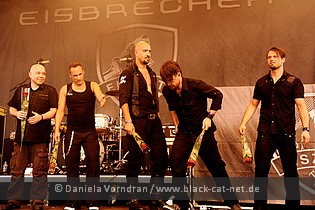 Schandmaul [J. "Niggels" Uhlenbruch]

The band has been founded in 1998, when six musicians from Munich and adjacency decided to organize a concert with Folk songs. But just doing a show full cover songs was not enough for them, so they started writing own material - which in the end resulted in the self-released album 'Wahre Helden' in 1999. Due to lots of creative energy, the band was able to release the 2nd album 'Von Spitzbuben und Halunken' only a year later. In 2001, a record company took notice of the band, leading to the recording of their third album 'Narrenkönig' in a professional studio, followed by their first big tour. The fourth album, 'Wie Pech & Schwefel', was the first album by the band with significant chart success, reaching #13 in the German Media Control Charts. Especially as a live band, SCHANDMAUL have build up an excellent reputation, documented in no less than four concert DVDs and three Live CDs. Their seventh and most recent album, 'Traumtänzer', was released in January this year and reached #4 in Germany and #10 in Austria. SCHANDMAUL is Thomas Lindner (vocals, accordion, acoustic guitar, piano), Anna Katharina Kränzlein (violin, symphonia), Stefan Brunner (drums, percussion, fanfare), Martin Christoph "Ducky" Duckstein (guitar), Birgit Muggenthaler (bagpipe, wind instruments) and Matthias "Hiasl" Richter (E-bass, string-bass). http://www.schandmaul.de / www.myspace.com/schandmaulmusic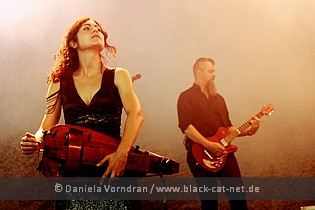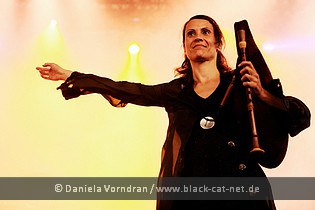 Music & Performance
In 2008, SCHANDMAUL made a first appearance at the Blackfield festival, and at least to me their gig was a positive shock. SCHANDMAUL's music is really, really not the kind of music I'm usually into, nothing I'd listen to at home, yet their show back then was an unexpected highlight for me. In 2008 they were the absolute antithesis of the bands which performed before them, which were all Electro/Industrial bands. What might look like a disadvantage actually really benefited SCHANDMAUL's show, as they delivered a much needed change in that moment. When SCHANDMAUL entered the stage of this year's Blackfield fest, vocalist Thomas Lindner welcomed the audience and added, that SCHANDMAUL are the colourful spot at a Goth/Industrial festival. If he wanted to express some scepticism if the folky-poppy SCHANDMAUL would be accepted at such an event, then this was uncalled-for - after all, there's a very good reason why SCHANDMAUL moved to a headline position two years after their first Blackfield appearance! With the hit single 'Kein Weg zu weit' the band delved directly into the heart of things, followed by 'Auf hoher See'. Thomas Lindner was a little handicapped though, as his left arm was broken and thus in plaster so that he couldn't play any instruments. Nothing that would stop him from performing, and for his instrumental duties at the guitar and the accordion SCHANDMAUL recruited a replacement from their roadie crew. 'Trinklied' raised the spirits even more, after all a drinking song is exactly what a crowd needs after a long festival weekend.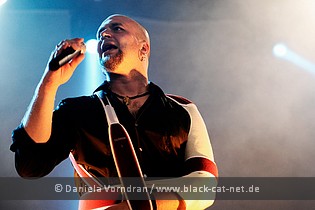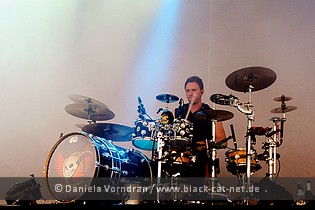 Apparently some attendees left - last but not least as some people certainly would have to work the next day - but there was still a good crowd at the amphitheatre. And people were willing to have a big party as the finale of the Blackfield! In the beautiful rays of the setting sun the Blackfield turned into a frolic and rompy celebration to the somehow medieval Folk Pop of SCHANDMAUL. Including band-crowd interaction galore, Thomas Lindner even taught us a few new dance steps and urged the crowd to do a Polka - quite a hilarious sight! From 'Leb!' to 'Teufelsweib' to a rocking 'Walpurgisnacht', the set list left little to ask for, and with the last encore song, the ballad 'Dein Antlitz', SCHANDMAUL said goodbye on a happy note. SCHANDMAUL's performance marked a very laid-back and cheerful end of a two long festival days, although rumour has it that certain people kept on partying until late night at the camping site.

Setlist
01. Kein Weg zu weit
02. Auf hoher See
03. Trinklied
04. Leb!
05. Der Alchemist
06. Mit Leib und Seele
07. Assassine
08. Das Teufelsweib
09. Lichtblick
10. Pakt
11. Drachentöter
12. Traumtänzer
13. Hexeneinmaleins
14. Frei
15. Die Walpurgisnacht
16. Der Krieger
17. Dein Antlitz

Rating
Music: 8
Performance: 10
Sound: 9
Light:8
Total: 9 / 10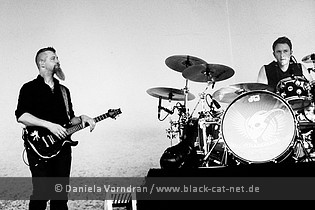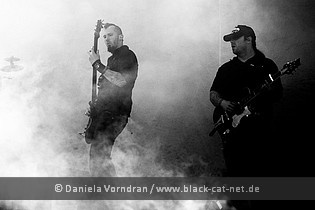 To sum the whole festival up: it was fantastic once more even though the line-up surely was not perfect for everyone and the weather conditions were not the best during the first festival day. But this location is simply too amazing! Besides that, the organisation was perfect once more and the whole crew and security very kind, it least as far as I could see. So, we'll be coming next year again!

All pictures by Daniela Vorndran (http://www.vorndranphotography.com / http://www.black-cat-net.de/ / www.myspace.com/vorndranphotography / www.facebook.com/blackcatnet)