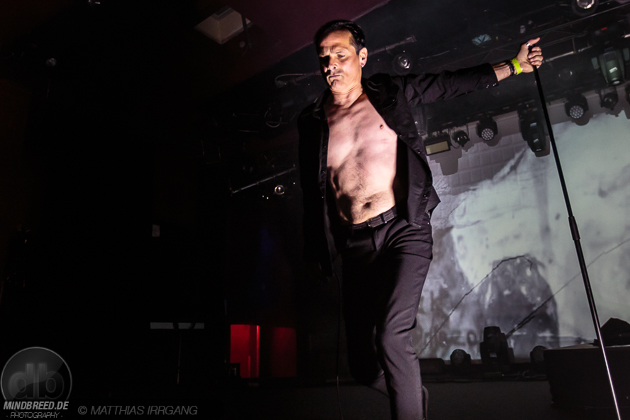 Astra Kulturhaus, Berlin, Germany
31st March to 2nd April 2017
Out of Line Weekender 2017 Day 1 with Tomas Tulpe, The Juggernauts, Heimataerde, Rummelsnuff, Esplendor Geometrico, In Strict Confidence and Dirk Ivens

Festival season has officially started and fans from all over Europe gathered in Berlin where the annual Out of Line Weekender took place from 31st March until April 2nd.
TOMAS TULPE, the "electric stage sausage" opened on Friday. Conclusion after twenty minutes of show: Wash your hands after going to the toiled and consider urinal cake instead of soap. (If you have no clue what I am talking about: Listen to 'Händewaschen nicht vergessen' and 'Klostein statt Seife'. After this slightly offbeat opening, THE JUGGERNAUTS entered the stage - and disappeared behind a wall of fog with almost no light. Sadly, the sound wasn't mixed too well, too. At the end, I was quite disappointed, but the attending fans had fun, nevertheless. My personal highlight, HEIMATAERDE, played the third gig on this evening. With almost every song taken from their latest album 'Aerdenbrand' and the live premiere of 'Eintausend Mal' they enthused the audience. Medieval Electro out of the PA system, decent Templars on the stage and blood all over the front rows - what could you wish for more?
It's always a pleasure to see the likable guys from RUMMELSNUFF on stage. And so it has been at the Astra when they took over the stage to party and fool around. What a lovely gig! Following a longer break, in which I sadly missed the concert of ESPLENDOR GEOMETRICO, IN STRICT CONFIDENCE went on stage. Being skeptical after seeing their vintage show a few weeks ago in Oberhausen, I was quite pleased to see a well balanced mix of older and more recent songs, embedded in a good show. DIRK IVENS, commonly known from projects like DIVE and THE KLINIK, headlined the first festival day. The audience was thinned out at the beginning of his stage time, but the remaining fans partied hard, while Dirk scurried all over the stage, only illuminated with flickering strobes. A nice ending of the first day!
All Pictures by Matthias Irrgang
See also (all categories):