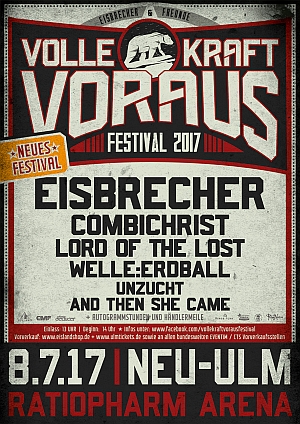 The EISBRECHER "Volle Kraft Voraus" Festival celebrates in premiere in 2017 at the Ratiopharm Arena in Ulm. Hot-cold to 18 below zero a total of six bands and a top location (air-conditioned - independent of weather - partly seats), plus open air chills-out area, food area, selected traders and autograph hours, mage the toughest ice shield to burst. Today, we are giving away 1x2 tickets for the festival. If you wanna take part in the raffle, please send an email with YOUR FULL NAME until 15th June 2017 with the headline "Eisbrecher" to
This email address is being protected from spambots. You need JavaScript enabled to view it.

.
Good luck!
Additional information

08. July 2017 Neu-Ulm | Ratiopharm Arena
Doors: 13:00
Start: 14:00
Tickets: Original Tickets are available here: http://www.eislandshop.de/de/vkvfestival2017.html
Computer- or Fan tickets are available via
https://goo.gl/3Bqesw
,
Ticketmaster
and all known pre-sale offices.
Infor: www.eis-brecher.com / www.eisland-entertainment.de
Line-up: EISBRECHER and Friends - "Volle Kraft Voraus" Festival 2017 with EISBRECHER, COMBICHRIST, WELLE:ERDBALL, LORD OF THE LOST, UNZUCHT, AND THEN SHE CAME
More on
Eisbrecher
Source: result Promotion