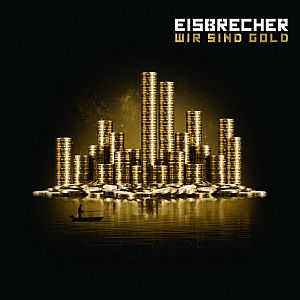 It has almost become a tradition that a summary of their work is published for round and semi-round band birthdays, now also for the 20th anniversary. But before EISBRECHER "Es bleibt kalt! (2003-2023)" will be released as a 2CD digipack, double vinyl (one black, one white) and digital audio long-play, the track 'Wir sind Gold' will hit the market. This song was previously only available on a special promo CD and the US version of 'Sturmfahrt' and has not been released digitally to date.
It is not entirely clear whether the track 'Wir sind Gold' is a result of the gold awards for the albums 'Die Hölle muss warten' and 'Schock', but nothing happens with EISBRECHER without a vision and without a wink. Nearly nothing. In order to finally make the track, which is highly traded on eBay, accessible to the fans, it will not only be released as a single, but will also be available as a lyric video on YouTube. The perfect mood is guaranteed, the waiting time for the next album is shortened. 40 hits in 20 years, no other, especially hard German band, can do that so quickly. The status as an extraordinary phenomenon of the local music scene is consolidated. Best of all: The next 20 EISBRECHER years start here and now, unpredictable and unstoppable, but with one guarantee: It stays cold!
In addition to the historically linear development, the popularity since the foundation in 2003 also seems unbroken. Year after year, album after album, concert after concert, the fan base grows. The last studio album 'Liebe Macht Monster' (2021) was of course number one in the German Media Control charts, as did its predecessor 'Sturmfahrt' (2017). And the band can look back on a catalogue that shows how diligently and hard they have worked on their success: eight studio works, a cover album, a live disc, a live DVD and two best-of compilations have hit the ground so far.
With 'Die Hölle muss Warten' (2012), 'Schock' (2015), 'Sturmfahrt' (2017), 'Schicksalsmelodien' (2020) and 'Liebe Macht Monster' (2021), the band was able to place itself in the top 4 of the album charts five times. Nominations for the Echo (2018) and for the Metal Hammer Award in the category "Best Rock Band National" rained down, covers of the most important scene organs such as Orkus, Sonic Seducer, Gothic and Metal Hammer have been on the program for years. In addition, the band completed real triumphal tours through Germany and, as already mentioned, was one of the few groups that managed to unite the Gothic scene and the Metal scene. EISBRECHER regularly play as headliners at festivals such as M'era Luna, Plage Noir, Amphi, Wave Gotik Treffen, Rockharz, Summer Breeze or even Metal Hammer Paradise.
But that's not all: In order to give something back to the scene, the band around Alex Wesselsky created an event a few years ago with the Volle Kraft Voraus Festival in Ulm, where Rock, Metal and Gothic bands who are friends of theirs come together. With each other, for each other, just not against each other. But despite their size, they don't become megalomaniacs. They always show a feeling for their fans and to get up close and personal, they created Christmas singing, which takes place once a year in a club in Augsburg. EISBRECHER are always on the move, even after 20 years.
The song can be heard here:
https://eisbrecher.lnk.to/WirSindGoldPP
Pre-order the album here:
https://eisbrecher.lnk.to/EsbleibtkaltPP
The video for 'Wir sind Gold' can be seen here from Sunday at 6 p.m.: www.youtube.com/@EISBRECHERofficial
Tracklist Double CD

CD1 Tracks 2003-2013: Mein Blut / Eiszeit / Schwarze Witwe (2018) / This is Deutsch / Ohne Dich / Amok / Vergissmeinnicht / Augen unter null / Böse Mädchen / Eisbrecher (2013) / Leider / Herzdieb / Verrückt / Die Engel / Herz aus Eis / Kein Mitleid / Heilig / Herz steht still / Miststück 2012 / Anfang
CD2 Tracks 2013-2023: 1000 Narben / Sturmfahrt / FAKK / Zwischen uns / Was ist hier los? / Freiflug / Volle Kraft voraus / Im Guten im Bösen / In einem Boot / Kontrollverlust / Rot wie die Liebe / Eisbär / Noch zu retten / Anna Lassmichrein Lassmichraus / Liebe macht Monster / Schock / Automat / Out of the Dark / Himmel / Wir sind Gold
Tracklist Double Vinyl

Vinyl 1 (white) Tracks 2003-2013: Mein Blut / This is Deutsch / Ohne Dich / Amok / Augen unter null / Eisbrecher (2013) / Leider / Verrückt / Heilig / Miststück 2012 / Anfang (Bonus)
Vinyl 2 (black) Tracks 2013-2023: 1000 Narben / Sturmfahrt / FAKK / Freiflug / In einem Boot / Eisbär / Liebe macht Monster / Schock / Out of the Dark / Himmel / Wir sind Gold (Bonus)
Source: Press Release
See also (all categories):