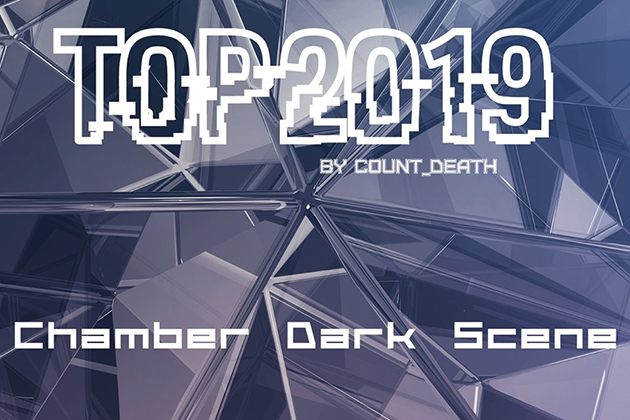 2019 has somehow become the year of Dark Folk in Chamber genres of the dark scene. I would not say that there was a bunch of albums in this particular genre, but almost all the Dark Folk albums that were out turned to be interesting and high quality. Neoclassical musicians released interesting, but ordinary works. The abundance of Italian projects this year has been replaced by Russian bands, who have often visited the top 10 Chamber dark scenes, but this year have taken a third part. Emotional performances, beautiful airy tunes, atmospheric compositions. All this will be in the top 10 of Chamber dark scene in 2019.
Covered genres: Ethereal, Neo-classical, Neofolk, Dark Folk, Dark Country, Medieval Neofolk
10. Ordo Rosarius Equilibrio – 'Let's Play (Two Girls & a Goat)' (Dark Folk, Martial Industrial | Out of Line, Sweden)

The new album of the famous Swedish Dark Folk project ORDO ROSARIUS EQUILIBRIO did not attracted my attention from the beginning, but after listening it turned out to be part of the top 10. Everything is played and performed well and professionally, rather than innovatively. The project continues to create a mixture of Dark Folk and Martial Industrial and this album turned out to be the same as its predecessors, except that everything was done very harmoniously and even here. The release is easy to listen to and is well received. I don't know if I would listen to it often and whether the songs would get into the player from here for a long time, but I would definitely return to it at least a couple of times. In general, this is probably the first good album of the Swedes after changing the label from the industrial Cold Meat Industry to the major popular Out of Line. https://www.facebook.com/ordorosariusequilibrio
09. Hania Rani – 'Esja' (Neo-classical | Gondwana Records, Poland)

HANIA RANI is a Polish composer, who plays her music mainly on the piano, although string instruments also appear from time to time. The girl previously was part of another Polish Neo-classical project, with which she released an album in 2018, and was also part of an Indie band, where she wrote music for several compositions. In 2015 her first material was released in split with another Polish composer. 'Esja' is the debut solo album of HANIA RANI. The work is played on the piano and includes emotional opuses with slight crackles, as if Hania was playing the piano by the fire on the seashore. The almost unnoticeable noise of rain adds certain charm. Good job forcing to drown into the own thoughts. https://www.facebook.com/haniaranimusic
08. Munknörr – 'Rúnaákall' (Neofolk, Ethereal, Ritual Ambient | Self-Released, Uruguay)

Nordic folk from non-nordic and even not northern countries is always interesting and is very fresh and different from other projects. MUNKNÖRR was formed in the end of the 10th in Uruguay and plays Scandinavian Folk with shamanistic elements. In 2019 the project released three full-length albums. The first two, probably, can be considered as checking the genre and trying to work in it, because they sound not so holistic with experiments in Ritual Ambient and even Dungeon Synth, but the last of the three, released in December, turned out to be more completed, more formed and more emotional. Here you can find female ethereal air vocals, Nordic Neofolk rhythms and shamanistic Ambient rituals with male singing. Several tracks on the album were done featuring by an Icelandic musician from the Black Metal project NIÐAFJÖLL, which made the Uruguayan project even more Nordic. A great album, that can easily be put together with DANHEIM, WARDRUNNA and other similar Neofolk projects. https://www.facebook.com/munknorr/
07. Moon Far Away – 'Athanor Eurasia' (Neofolk | Auerbach, Russia)

Russian project MOON FAR AWAY was formed in 1994 and is currently the oldest and probably the most respected project from the Neofolk scene in Russia. The musicians from Arkhangelsk have already more than five full-length albums in discography plus split albums with other non-Folk Industrial and Electronic musicians. MOON FAR AWAY was mentioned and interviewed in well-known European magazines, the band performed on various festivals in Russia and abroad. At the moment, MOON FAR AWAY has the status of a cult project of a Neofolk scene in Russia. Musically, MOON FAR AWAY always tried to experiment, never replicated their sound and combined Russian traditional Folk culture with Avant-Garde elements of different music. It also happened on the new album, which was released nine years after the previous solo work (during this time there were two collaborations with other musicians, two more EPs, a solo vinyl EP and two compilations). The new work is done in the classical Folk-sounding MOON FAR AWAY without an electronic component from the last material with Russian folklore and rare Ambient inserts. The lyrics are mostly in Russian, but there are English-language songs too and the English tracks sound more European without Russian folklore with the bias to a more classic Dark Folk. Good return to solo material and a great album from Russian Neofolk legends. https://www.facebook.com/MoonFarAwayOfficial
06. Rome – 'Le Ceneri di Heliodoro' (Dark Folk, Neofolk, Neo-classical | Trisol Music Group, Luxembourg)

Luxembourgish project ROME was formed in 2005 and for many years has attracted lovers of Neofolk and Industrial music not only by exotic country of origin, but also with music. Jérôme Reuter, who is the ideologist and frontman of the project, has charismatic recognizable vocals and versatile composing abilities. The musician is constantly experimenting with different genres, which was not always successful. Initially, the project was published on the famous Swedish Industrial label Cold Meat Industry of Roger Karmanik from BRIGHTER DEATH NOW, but at some point ROME migrated to the more mainstream and Gothic oriented Trisol, but this did not cause a softening of the sound. Jérôme still periodically uses the Martial Industrial excluding Dark Folk and Neo-classical elements. In recent works, the Luxembourg project is waving from one extreme point to the other, so his work could easily get into the top of the best releases and go down the top of disappointments. In 2019 ROME released two albums, one of which is actually improvisations from Dublin and 'Le Ceneri di Heliodoro' is essentially a full-length album. It worked out very well. The classical Neofolk with Jérôme's vocals with English lyrics is easy to listen to and perceives and leaves extremely positive emotions from listening. Rare short Martial Ambient sketches also add a certain atmosphere. Great job. I hope this does not mean that the next album will be in the top of disappointments. https://www.facebook.com/romeproject
05. Shadoworld – 'Desertland' (Dark Folk, Post-Folk, Electronic, Experimental Industrial | The White Room, Italy)

In 1994 Italian musician Roberto Del Vecchio from the Death Metal band MALEFICARUM created a solo project with the simple name GOTHICA, in which he played ethereal with Neo-classical and soft Ambient. Later a more guitar-gothic incarnation of GOTHICA appeared under the name THE LAST HOUR and a very experimental, but very interesting Industrial project LES JUMEAUX DISCORDANTS. In the middle of the 10s, Roberto created a new project SHADOWORLD. Here the composer turned the theme of Folk and experimenting with various genres including Rock, Industrial and Electronic sounds. The debut work of SHADOWORLD was released in 2017 and in 2019 the new work 'Desertland' saw the world. The new material is similar to the first album, although comparing two records with experiments is not so simple and completely ambiguous. In any case, the SHADOWORLD material is an explosive mixture of DEATH IN JUNE, JOHNNY CASH and EINSTÜRZENDE NEUBAUTEN with the influence of NICK CAVE.
This work can easily be part of Industrial music top and it will definitely be high. The general atmosphere and mood can probably be compared with the music of KISS THE ANUS OF BLACK CAT, but Roberto got a more varied light electronic component alternating with Dark Folk compositions, a touch of Psychedelic Rock, Industrial Darkwave and other genres. 'Desertland' is the most diverse album of Chamber dark genres and it doesn't turn into chaos. Great work of the composer, who always surprises with an interesting mix of genres. https://www.facebook.com/shadoworldmusic
04. Stein – 'Der Weg des Ziels' (Dark Folk | STEINton, Germany)

The German project STEIN was formed at the end of 00s by members of SEELENTHRON and DIES NATALIS. In 2010 their debut album was released. The album of 2019 is called 'Der Weg des Ziels' and became the fourth in the discography of the project. The album features a classic even authentic Dark Folk with German lyrics and male vocals with female back. Acoustic guitar, Industrial percussion and periodic orchestrations. All this can be heard on the album. STEIN does not offer the listener something mega-innovative and unique, but just perfectly and correctly plays Dark Folk music, how it should sound. Music in the atmosphere periodically reminds SEELENTHRON, but this is not bad at all and even good, because STEIN made SEELENTHRON sound more differently and diverse. Great job. https://www.facebook.com/STEIN-folk-de-deuil-731790906845784/
03. Pomni Imya Svoyo – 'Imyarek (Neoclassics, Ethereal | Self-Released, Russia)

The Russian project POMNI IMYA SVOYO (Russian - Remember Your Name) continues to shine. Neo-classical piano-accordion compositions with mega-emotional performance of Ksenia, whose vocals are recognized from thousands and millions of other voices, with a touch of the author's song, have long been the trademark of the project. On the new album, which is already the fourth in the discography, the Russians do not use often the lyrics of famous Soviet poets as it was before, moving to more modern authors or even lyrics of their own composition. Because of that the emotional colouring changed a little, but did not become weaker or worse, but simply became different. The material of POMNI IMYA SVOYO is always made at the highest level and while listening you live a whole life with the album. And every time this life is different. https://www.facebook.com/rememberyournamemusic
02. Angelic Foe – 'An Evil of Nature' (Ethereal, Neoclassics | Dark Chamber Records, Sweden)

In 2006 the vocalist of the famous Swedish project ARCANA Ann-Marie Tim formed her own project ANGELIC FOE. In 2012 her debut work came out and in 2014 Anna-Marie left ARCANA and focused on her solo work. At the moment the Swedish singer and composer has three albums in the discography, the last of which under the title 'An Evil of Nature' was released in 2019. ANGELIC FOE is a combination of Ethereal and Neo-classical opuses in the best traditions of the genres. The new work is made in these genres with the emotional performance of Anna-Marie, solemn compositions with an occult touch, a mystical atmosphere and occasionally ritual rhythms. Piano compositions and beautiful female vocals diversify the release. I don't remember such authentic holistic Neo-classical and Ethereal album on the scene for a long time. Great combination, great work. https://www.facebook.com/AngelicFoe
01. Neutral – 'The World of Disbelief' (Dark Folk | Self-Released, Russia)

By unverified information on the network the Russian project NEUTRAL began its musical journey in the Metal scene, but the amount of release in that genre is limited to only few demo releases. The line-up changed or rather shortened and with it the sound changed. The first Dark Folk material was released in 1999 and its debut full-length work in this genre was out in 2004. The European and international recognition came to NEUTRAL with the release of a live album in 2006 and reinforced itself after the release of the second full-length album in 2008 on the well-known and respected Dark Folk label Eis und Licht. After this, performances and cooperations with other well-known projects followed, but the first half of the 10s passed in silence. In 2015 a comeback with a mini-album happened and in 2019 comes the third solo full-length work.
NEUTRAL plays the classic Dark Folk with Neofolk and Neo-classical with deep male vocals and English lyrics, which are sometimes diluted with Russian texts. The new work is done just in this genre. Acoustic overflows with violins and beautiful vocals remind the most successful NEUTRAL album. Great work, emotional, concise, sensual, thoughtful and perfectly played. This Russian project can rightfully be considered one of the best dark folk bands in Russia and NEUTRAL once again confirms that. No band's Facebook. Here is the frontman and the only member as far as I know: https://www.facebook.com/AshNeutral
Other honourable mentions: ARON BERGEN, RÚNAHILD, JULIE KENT, L'IRA DELL'AGNELLO, NORDMAOR, LORI-ANN SPEED, LUDOVICO EUNAUDI, HEILUNG, FEUERDORN, FAUN, PETER GUNDRY, LISIEUX, SOWULO
See also (all categories):