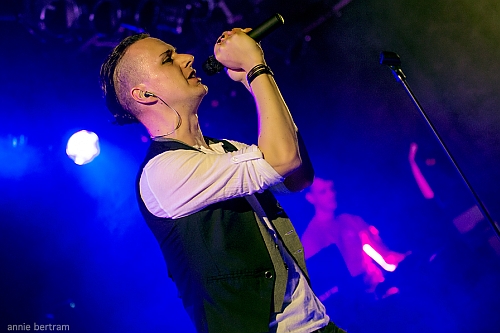 KIFF, Aarau, Switzerland
28th March 2014
Solar Fake & Kartagon

This was not just another concert night at KIFF Aarau. This was also the 20th anniversary of the legendary Spellbound party. Roundabout 250 visitors found their way into the KIFF to party and to see the two announced live acts, SOLAR FAKE with support of Swiss-based band KARTAGON.
Kartagon

KARTAGON are Hannes[B] and Thomas Daverio from Basel Switzerland. With KARTAGON, the Swiss duo has renewed a musical collaboration going back as far as 1990. Under the name PANIC ON THE TITANIC they released three CD albums from 1992-1996. In 2003, the debut album 'Natural Instincts' was released. In 2011, KARTAGON went finally back to the studio and started working on new material. On top of this, they invited a bunch of interesting people to contribute to the new album: Tilo Wolff (LACRIMOSA) as guest-vocalist on the song 'Messiah', Swiss pop-soul singer NUBYA for the same on the song 'One Day' and of course Daniel Myer (HAUJOBB / DSTR / ARCHITECT etc.) as producer for the whole album! It is called 'In The Clinic' and was officially released on June 7th 2013.
http://www.kartagon.com
/
https://www.facebook.com/kartagon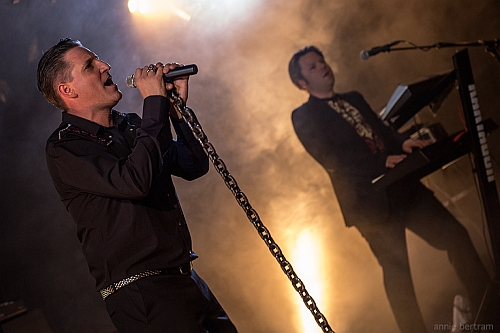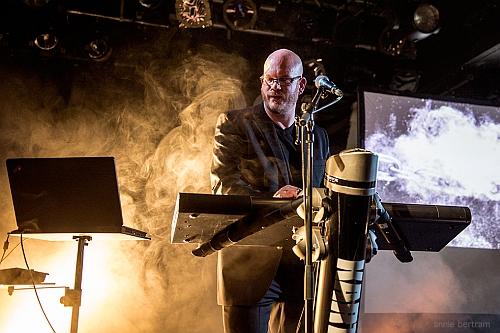 Music & Performance

It was 21:30 when the curtain raised and KARTAGON invited us for a visit 'In The Clinic' with an intro and the song 'Believer'. Surrounded by a great video installation, Hannes (B), Thomas Daverio and Jan Bertram (first time on stage with KARTAGON and former founder of LOST AREA) performed 'My Sanity'. Most of their played songs can be found on their last album, but also older songs like 'Hunter' and 'Pure Love' were performed. After 40 minutes playing time the first set was over. This gave us a perfect start for this wonderful concert and party night.
Rating

Music: 8
Performance: 8
Sound: 8
Light: 7
Total: 7.8 / 10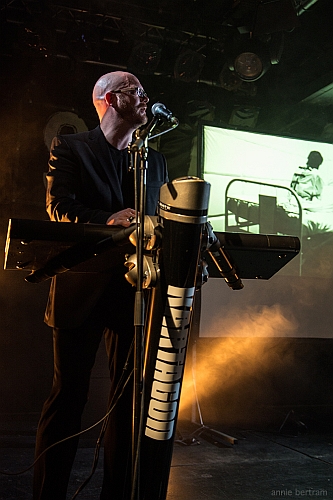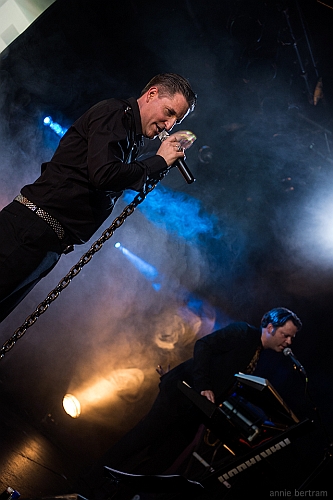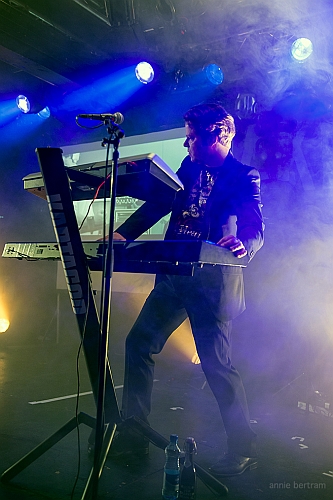 Solar Fake

In 2007, Sven Friedrich (DREADFUL SHADOWS /ZERAPHINE) founded his solo project SOLAR FAKE. For his live performances he engaged Frank Arnold at the keyboard. His first album was released just a year later, 'Broken Grid'. The second album was 'Frontiers' in 2011. SOLAR FAKE gained some recognition as supporting act for PETER HEPPNER's 'My heart of stone' tour, as well as by performing on several festivals besides his own touring. While his other bands are more Goth Rock/ Metal/ Alternative, SOLAR FAKE is a Dark Electro-Pop project. The latest album is 'Reasons To kill', accompanied by a tour, starting in Israel and taking place in Spain and Germany.
http://www.solarfake.de
/
https://www.facebook.com/SolarFake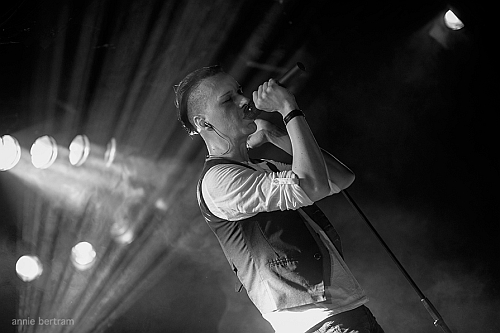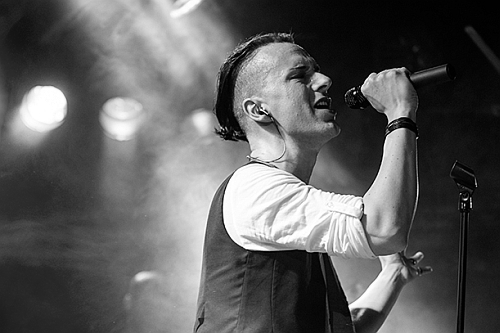 Music & Performance
After just a small break SOLAR FAKE hit the stage for their final tour concert. There was no time for a relaxing start. They started with fast tunes of 'I Hate You More Than My Life' from their new album 'Reasons To Kill'. As we know, the Swiss audience as a little bit shy, charismatic front men and singer Sven Friedrich animated them for clapping hands and dancing. And it doesn't need too long and all people found themselves dancing and partying. This was the second show in Switzerland for SOLAR FAKE and so much more overwhelming than the first time as there was just a support-band. Great to see, how the band has developed in just a short time frame. And of course they have one more live-keyboarder by now, André Feller, who is also known from his band HERZFEIND.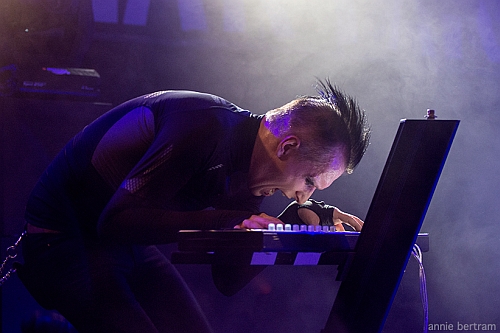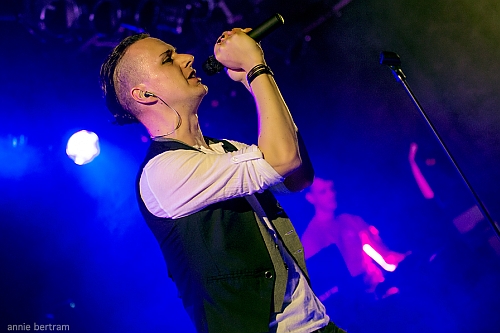 Besides the faster songs, there was also space for ballads like 'More Than This' and 'Where Are You'. After two encores, including a fantastic cover version of TALK TALK's 'Such A Shame', the curtain closed again and it was time for dancing and celebrating 20 years of Spellbound.
Setlist

01. I Hate You More Than My Life
02. Face Me
03. No Apologies
04. Here I Stand
05. Change The View
06. (You Think You're) Radical
07. More Than This
08. Reset To Default
09. Parasites
10. Where Are You
11. I'd Rather Break
12. My Spaces
13. One Step Closer
14. The Pages
---
15. Under The Skies
16. Pain Goes By
17. Such A Shame
---
18. Hiding Memories From The Sun
19. Your Hell Is Here
Rating

Music: 9
Performance: 9
Sound: 8
Light: 7
Total: 8.3 / 10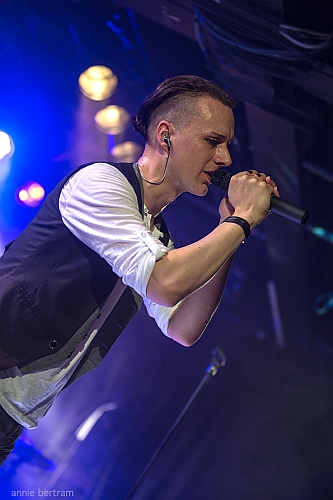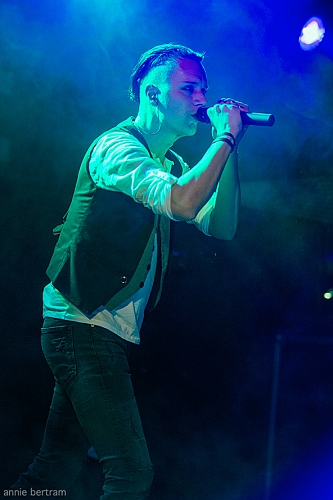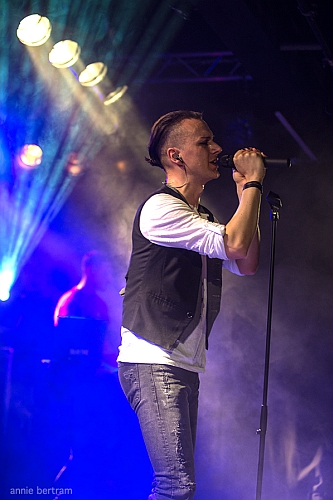 All pictures by Annie Bertram (
http://www.anniebertram.com
)