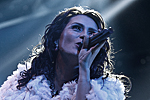 C-Halle, Berlin, Germany
21st November 2011
Within Temptation & Anneke van Giersbergen

The hall was nearly sold out, and people were waiting impatiently, but in a good mood for WITHIN TEMPTATION. Older couples and excited Goth girls were standing together, when Anneke with her band appeared for their support slot.



Anneke van Giersbergen

ANNEKE VAN GIERSBERGEN is most notable for being the singer of Dutch band THE GATHERING she left in 2007 to work with her own band AGUA DE ANNIQUE with whom she soon released the first album 'Air' the same year. 2009, it was mutually decided to put her more into the spotlights of everyone. That's the reason why the second album 'Pure Air' carries her name. The next and third album by the name of 'In Your Room' came out the same year. http://www.annekevangiersbergen.com / http://www.myspace.com/annekevangiersbergen / https://www.facebook.com/pages/Anneke-Van-Giersbergen/17778084215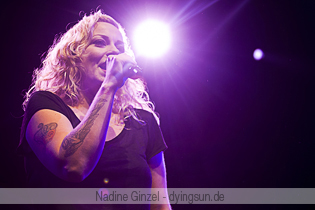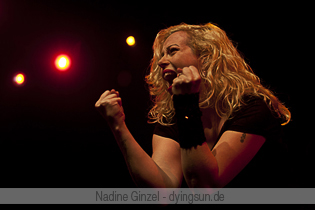 Music & Performance
The Dutch singer and bandleader Anneke van Giersbergen presented a total of seven songs, which where a solid, but mediocre mixture between Pop, Rock and Symphonic Metal. The songs seemed to be alike to each other a lot, and her attitude, which had an aura of forced powerfulness and sexiness, did not compensate her unimaginative music style. The first three songs were nearly not distinguishable. The fifth song was a very trendy ballad whereas the sixth song, a rock song, did catch some more applause by the audience. Really imaginative was only the seventh and last song which had some interesting rhythms.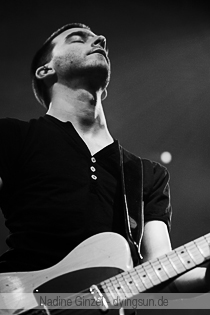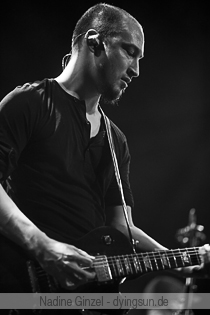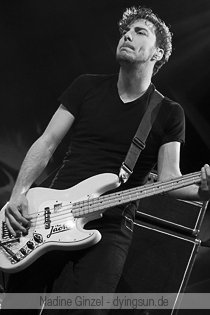 Within Temptation

WITHIN TEMPTATION, the most famous music "export" which comes from Netherlands, was founded in 1996 by Sharon den Adel and Robert Westerhold, who have three children together. Their first great success in Europe was their album 'Mother Earth', published in 2000. Since then, their mixture of Metal, Gothic and classical elements, often called "Symphonic Metal", has a big fan community all over the world, specially within the Gothic community. WITHIN TEMPTATION is Sharon den Adel (vocals), Stefan Helleblad (rhythm guitar), Ruud Jolie (guitar), Jeroen Van Veen (bass), Martijn Spierenburg (keyboards) and Mike Coolen (drums). http://www.within-temptation.com/ / https://www.facebook.com/wtofficial / http://www.myspace.com/withintemptation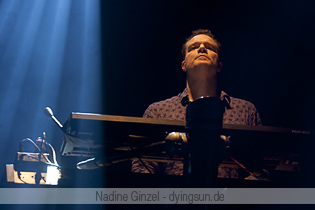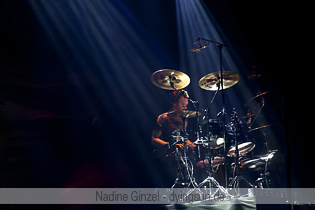 Music & Performance
The stage was dominated by a giant screen, and the show begun with a movie displayed. The clip, called 'Mother Maiden', shows a old woman who struggles a fight for justice and against evil. Sharon appeared dressed in a somehow irritating dress: black trousers, a white coat and a glittering belt, which had a touch of nineties and did not fit with her former style of clothing. The first song, 'Shot in the dark', was a powerful rock song, with red flames showed at the screen and beautiful light effects. Following 'Fire and Ice', which earned a lot of applause, was a rousing ballad with a clip with a woman with armament and alas on the background. Also the next song, 'Ice Queen', was an outstanding rock ballad. During 'Our Solemn Hour', Sharon was sitting at a throne dressed with a large coat. The public cried out for enthusiasm, and at this powerful song the singer showed her whole remarkable vocal power.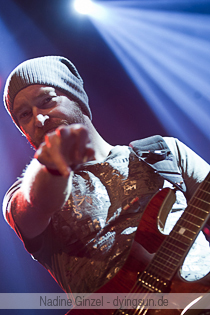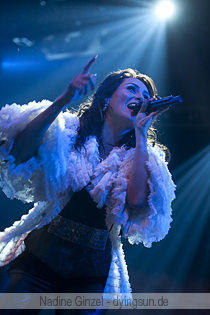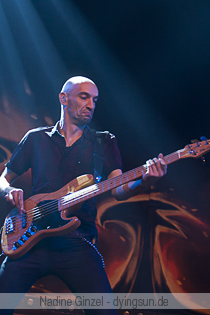 During the eight song, Sharon spoke for the first time to the audience, presenting two new band members at the drums and at the bass. When, the performance went on with another video clip about the formerly mentioned struggle against evil. Then she asked the audience in German: 'What have you done' and played this beautiful song with a fast rhythm. The next song, 'Iron', displayed all the powerfulness of her brilliant voice and was very metal-like with hard basses and drums and built a nice contrast to the very delicate song 'Angels'. All in all, the concert was a real success: Although WITHIN TEMPTATION has developed in a certain way away from the Gothic scene and has become more Pop-like, they still have many elements of symphonic metal. Sharon's voice was much clearer than a few years ago, and the whole band gave a good performance. At last, the outstanding quality of the sound and lights should be mentioned here. A beautiful evening with a cheerful audience!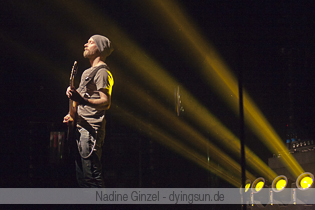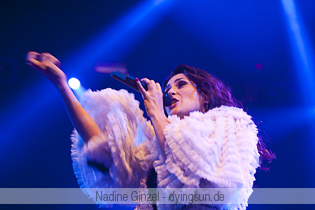 Setlist
01. Mother Maiden (Movie)
02. Shot in The Dark
03. In the Middle of The Night
04. Faster
05. Fire And Ice
06. Ice Queen
07. The Howling
08. Our Solemn Hour
09. Stand My Ground
10. Sinéad (Short Movie)
11. Sinéad
12. What Have You Done
13. Iron
14. Angels
15. Where Is the Edge
---
16. See Who I Am
17. Mother Earth
---
18. Stairway to the Skies

Rating
Music: 9
Performance: 9
Sound: 10
Light: 10
Total: 9.2 /10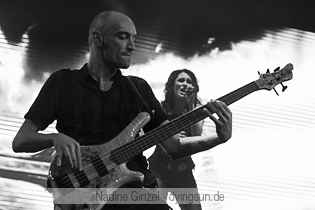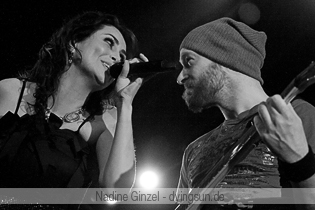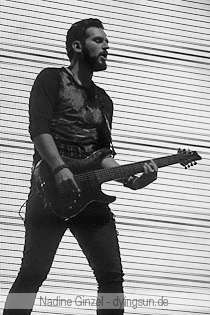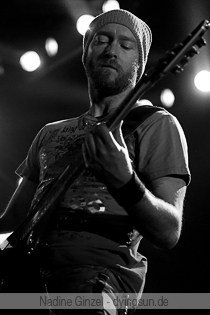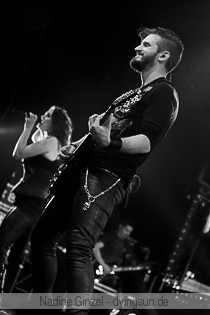 All Pictures by Nadine Ginzel (www.dyingsun.de)



See also (all categories):