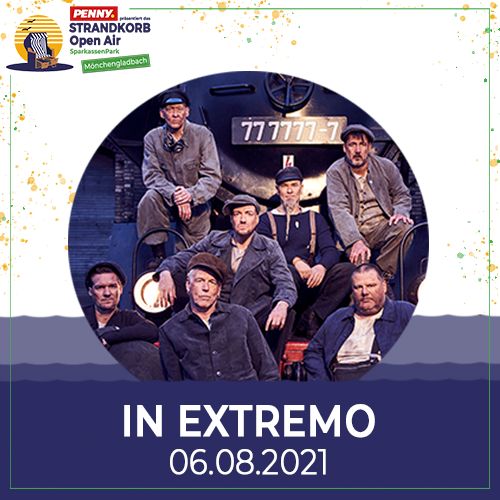 SparkassenPark, Mönchengladbach, Germany
6th August 2021
In Extremo - Strandkorb Open Air - "Endlich live - Sommer 2021" Tour

One of the best Medieval Rock bands, IN EXTREMO, will start their small "Endlich live - Sommer 2021" tour in Mönchengladbach. With their bagpipes, English flutes in different sizes, shawm, harp and a lot of traditional instruments, the seven boys will rock the stage. Of course, they will play also modern instruments like drums, electric guitar and bass-guitar. The lyrics of the songs are played in different and also some rare old languages.
Don´t miss this show in front of a lot of beach chairs. You will see an amazing show with amazing fire effects and good music.
All tour dates

06/08/2021 - Germany Mönchengladbach Sparkassenpark Strandkorb Open Air
07/08/2021 - Germany Nürnberg Volkspark Dutzendteich - Strandkorb Open Air
14/08/2021 - Germany Berlin Hoppegarten Strandkorb Open Air
27/08/2021 - Germany Halle Peissnitzinsel
28/08/2021 - Germany Halle Peissnitzinsel - SOLD OUT!
01/10/2021 - Germany Bosen Bostalsee - Strandkorb Open Air
Additional Concert Info

Sparkassenpark Strandkorb Open Air
Start: 20:00
More info: https://strandkorb-openair.de/termine-moenchengladbach/
Tickets: from 51.50 € (+ charges/shipping) via
https://tidd.ly/3xm95qz
Band: https://www.inextremo.de/de/home/
See also (all categories):