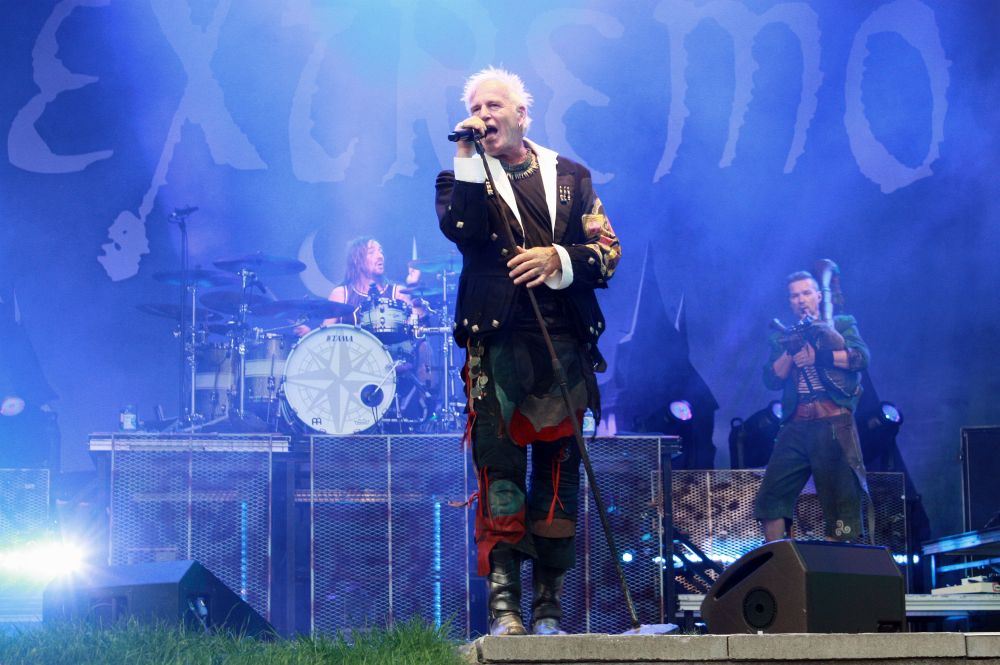 Stadtpark Open Air, Hamburg, Germany
18th August 2023
In Extremo - "Carpe Noctem Burgen Tour 2023" - Special Guests: Tag My Heart

"Carpe Noctem" - under this banner, IN EXTEMO once again have travelled through the country's medieval castles and palaces this year, taking the audience on a unique journey into their own musical past! For 2023, the band prepared a very special program for their fans - you can be very excited and look forward to some songs that you haven't heard for a long time! In more than ten castles and palaces and in Hamburg's Stadtpark Open Air, IN EXTREMO really banged again! IN EXTREMO has hired attractive support bands for their castle tour again this year. The still-young band TAG MY HEART was in for Hamburg.
Tag My Heart
Punctually at 6:30 p.m., TAG MY HEART started their gig, with front woman and singer Isabel Martín Alonso clearly taking center stage. She scores with the audience with her charisma and her strong, variable voice. TAG MY HEART released its debut album a month ago, so it was a great opportunity for the band to present it live in front of an audience. The singer Isabel was waving a baseball bat on stage or going straight down into the arena to the audience, in other words, attracting attention and flirting with the crowd in every possible way. I can't say that I'm a fan of this kind of music, but the band was definitely lucky to have a fiery vocalist.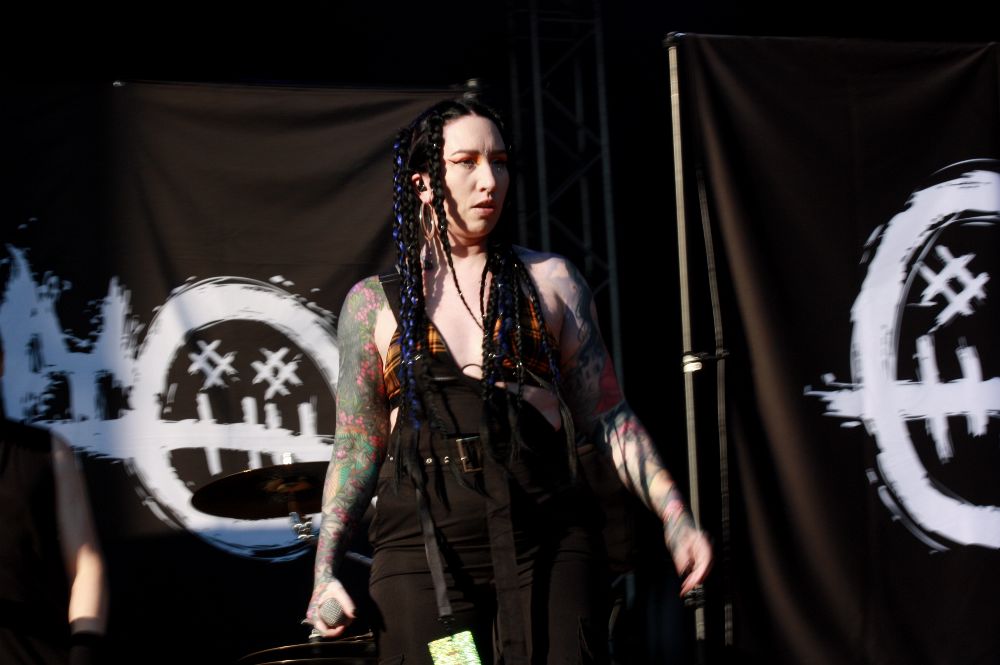 TAG MY HEART - a confident, energetic and authentic group of four combining several styles of modern metal. The band - consisting of Isabel, Neno, Peter and Chris - formed in late 2020 and immediately started pushing the limits that were set by the global exceptional situation in order to demonstrate what their determination and music is capable of. Within the first six months of the band's existence, they teamed up with Marc Görtz of CALIBAN, Benjamin Richter, and Mirko Witzki to write, produced, and shoot the first songs and singles.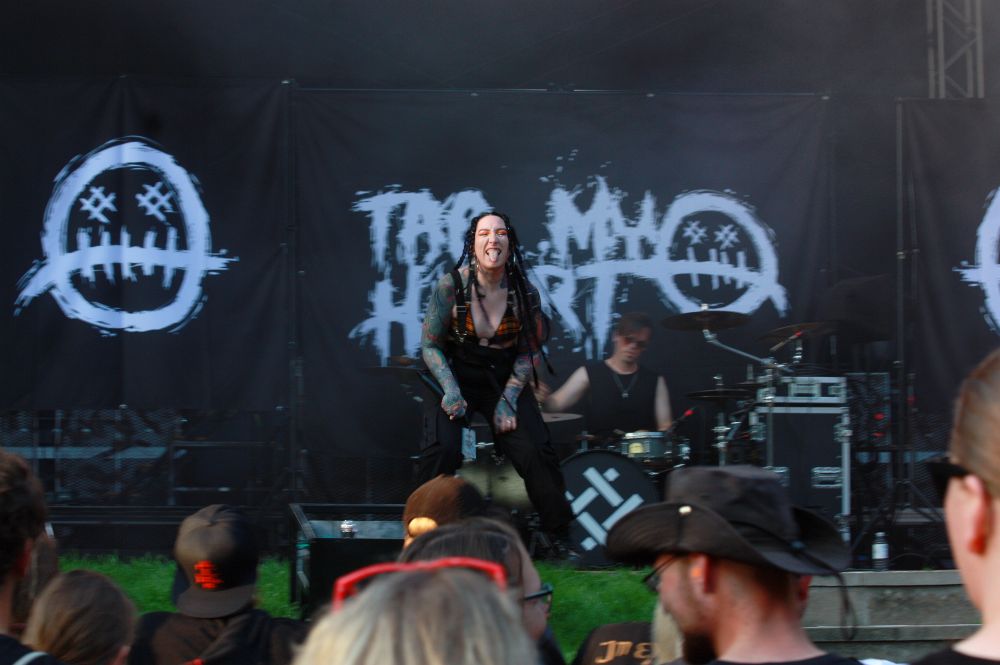 After playing their first show in Kyiv (Ukraine) with DARK TRANQUILLITY in November 2021, the 1. EP and a support tour with DARK TRANQUILLITY & ENSIFERUM followed in spring 2022. Shows with INFECTED RAIN & LORD OF THE LOST followed. With 'Fighter', the first single of their upcoming debut album was released in March 2023.
Setlist

01. Sometimes
02. Fighter
03. Cold Dark World
04. Deadline
05. Shutdown
06. Opium
07. What goes around
08. Enemy
09. This is me now
Rating

Music: 8
Performance: 8
Sound: 7
Light: 9
Total: 8 / 10
In Extremo

After the headliner stage was rearranged and the sun slowly disappeared behind the dense tree crowns of Hamburg's Stadtpark, it was time for Medieval rockers IN EXTREMO. The musicians took the stage to great applause and Michael Rein confidently welcomed the audience. With 'Troja' the guys started the concert and already during the first song a real firework of pyrotechnics and flamethrowers went off. It seemed like other photographers and I were roasting on a slow fire. To be honest, I have never been so hot during a photo reportage before. The fire spectacle as usual lasted the whole concert, creating the atmosphere of a real medieval fair.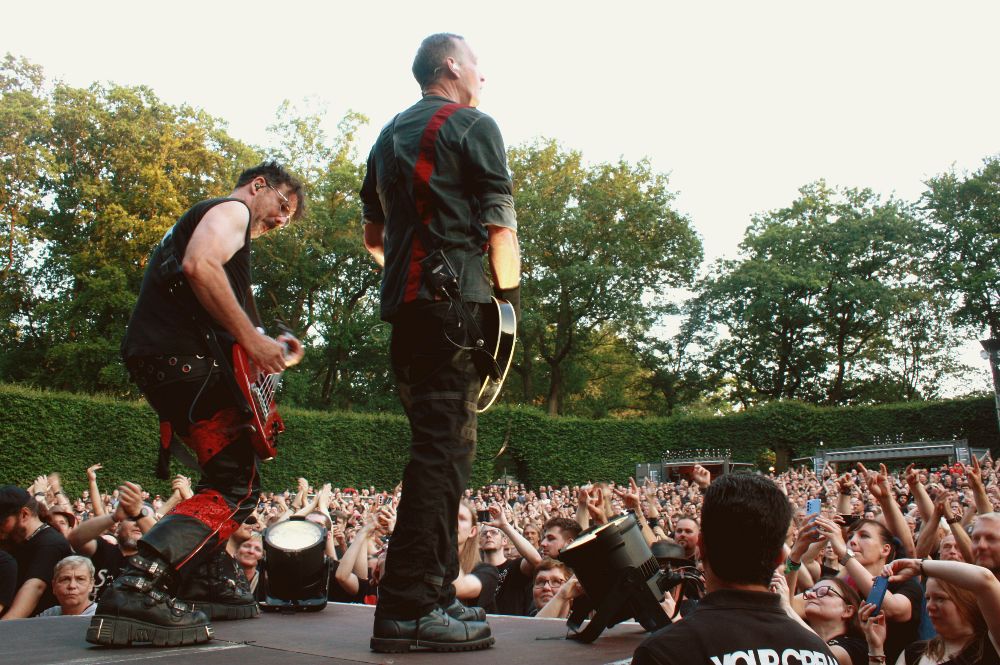 With 'Kompass zur Sonne' the mood reaches a high. With 'Liam', this increases again. Then comes my personal favorite song of IN EXTREMO 'Ave Maria'. I am very grateful to the band for this masterpiece. With 'Saigon and Baghdad', Michael has to make a political statement and denounce the absurdity of the war slaughter all over the world, although IN EXTREMO say they usually keep a low profile in such situations. Again and again, Michael announces songs from the band's extensive smorgasbord that haven't been on the setlist for a long time and now have been selected for this year's castle tour. The fans loudly sing 'Rasend Herz' along. With 'Lieb Vaterland', things get reflective again.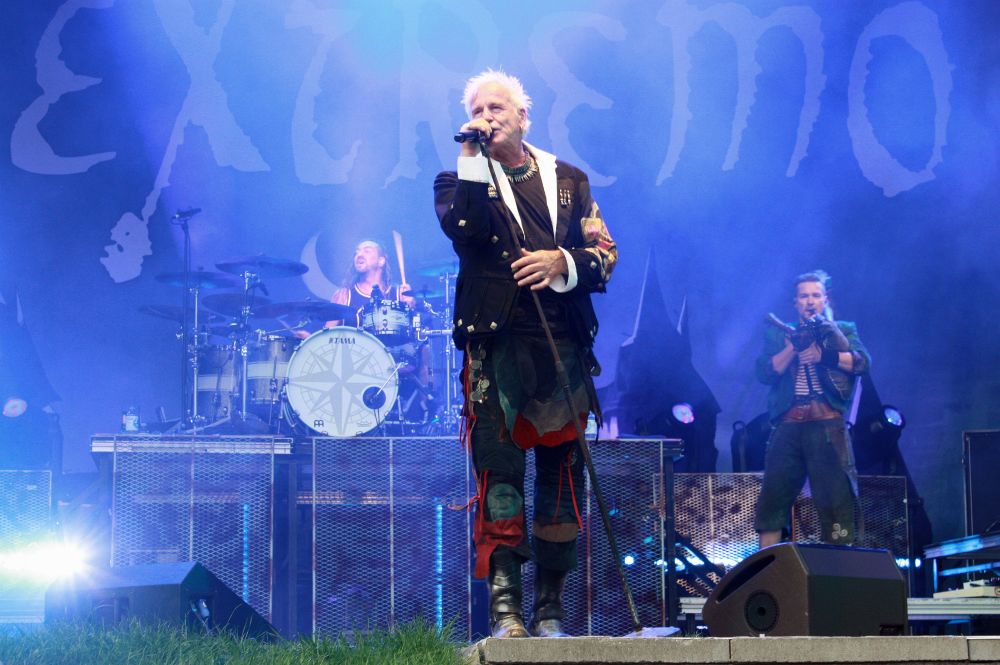 'Frei zu Sein' and 'Störtebeker' are among the band's most fan-favorite songs, which could be heard in the wonderful atmosphere at Stadtpark Open Air. People were singing along loudly, and dancing, a mosh pit formed not far from the barrier leading to the photo pit, and thus the performance reached a high point. The old classics 'Feuertaufe', 'Spielmannsfluch', and 'Pikse Palve' from the album 'Quid Pro Quo' were unstoppable, and the set came to a brilliant conclusion. Overall, it was a sold-out for IN EXTREMO, a whole two hours of live show and 24 songs, including some rarities from all eras of the band... the audience withstood it with honour and the guys from IN EXTREMO were welcomed with rapturous acclamations.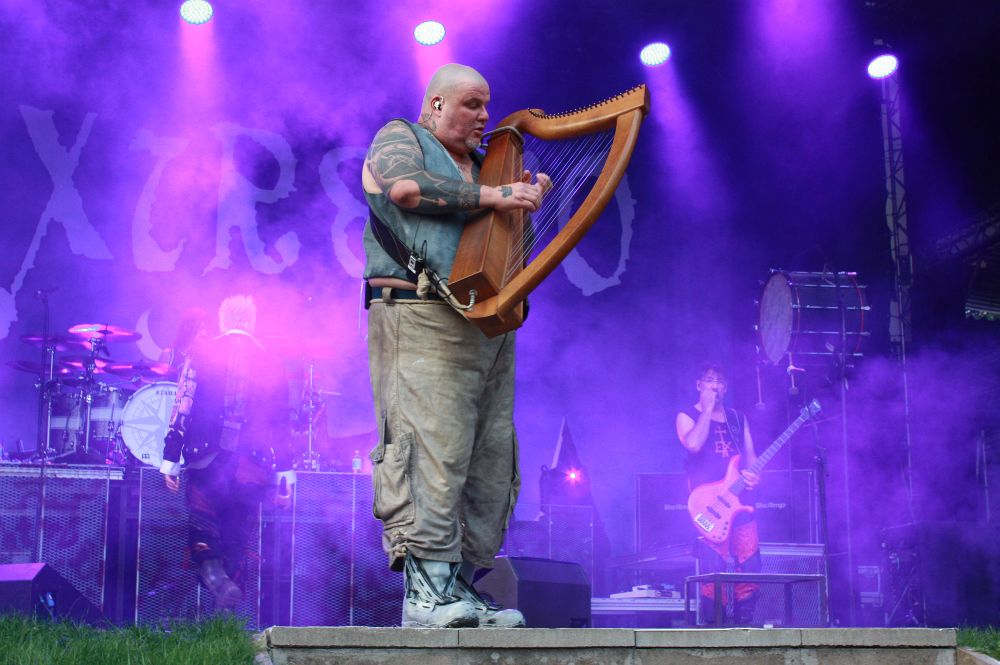 Setlist

01. Troja
02. Vollmond
03. Omnia Sol Temperat
04. Ai vis lo lop
05. Saigon und Bagdad
06. Kompass zur Sonne
07. Unsichtbar
08. Liam
09. Villeman og Magnhild
10. Ave Maria
11. Küss mich
12. Lieb Vaterland, magst ruhig sein
13. Rasend Herz
14. Sängerkrieg
15. Moonshiner
16. Weckt die Toten
17. Frei zu sein
18. Wind
19. Sternhagelvoll
20. Störtebeker
21. Feuertaufe
22. Rotes Haar
23. Spielmannsfluch
24. Pikse Palve
Rating

Music: 10
Performance: 10
Sound: 9
Light: 9
Total: 9.5 / 10
All Pictures by Iryna Kalenska
See also (all categories):