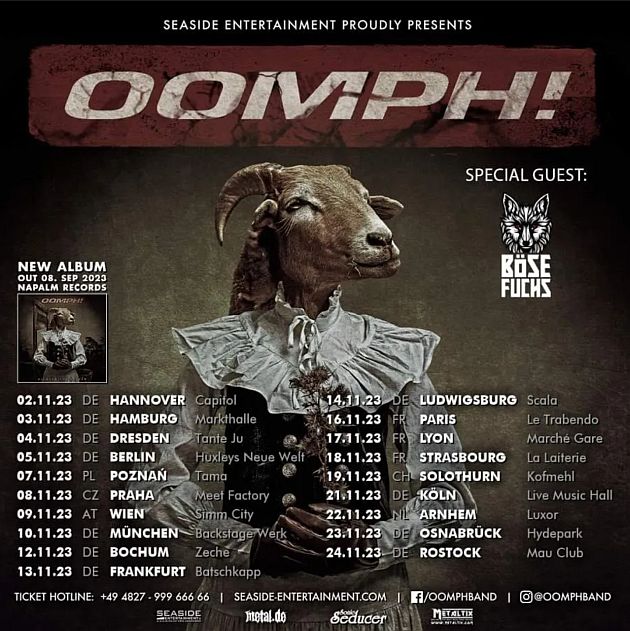 Zeche, Bochum, Germany
12th November 2023
Oomph! - "European Tour 2023" - Support: Böse Fuchs

The Neue Deutsche Härte pioneers OOMPH! are back with their 14th studio album 'Richter und Henker'! With their previous album and Napalm Records debut 'Ritual' (2019), they reached number 1 in the Official German Album Charts for the first time, after playing countless major national and international tours and festival shows in their over 30-year success story. OOMPH!'s biggest hit to date, 'Augen Auf!' (2004), is a timeless classic and is right in the ears of every rock fan. 'Richter und Henker' heralds a new era with the first line-up change in the band's history, which began in 1989: CR4P and FLUX are now on stage with the new singer DER SCHULZ. The new studio album was released on September 8th, 2023 and, as usual, was produced and recorded by the band themselves.
'Richter und Henker' is a clear statement that OOMPH! are back stronger than ever in a new formation and are continuing to pursue their path in a straight line - this is how the Lower Saxons present themselves musically at the highest level and lyrically, as usual, opinionated, biting and critical. With a strong industrial dose, the album opener 'Wem Die Stunde Schlägt' sets a direct example. The title track 'Richter und Henker' captures the listener with the perfect symbiosis of haunting guitar hooks and vocals, while an all-round attack is made against unreflective and ignorant social movements. New Wave influences can be found in the groovy anti-war anthem 'Nur Ein Mensch' - a future hit and a strong signal against warmongering and hatred and empty slogans that promote war. None other than genre idol JOACHIM WITT supports the band on 'Wut'.
In 34 years, OOMPH! established as one of the most influential bands in Germany, which have inspired countless artists, including the genre giants RAMMSTEIN. With 'Richter Und Henker' the pioneers of the Neue Deutsche Härte prove that they remain at the top of the genre even after the first line-up change of their career.
Additional Concert Info
Doors: 19:00
Start: 20:00
Tickets: can be bought for 39.80 + charges (pre-sale) via
Eventim
Info:
https://concertteam.de/event.php?i=2306&x=1695646162


See also (all categories):