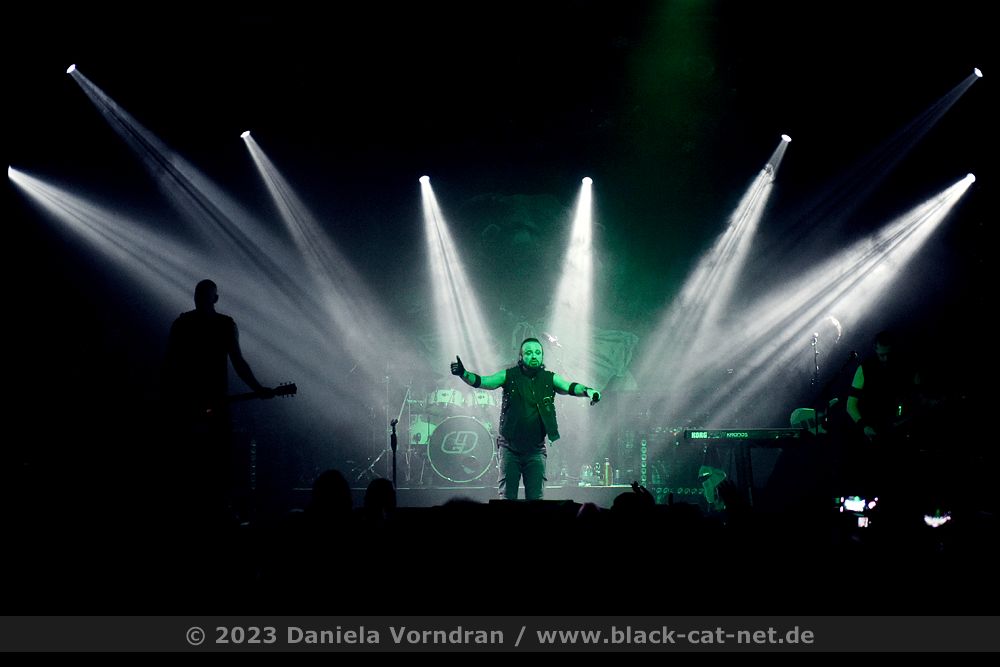 Zeche, Bochum, Germany
12th November 2023
Oomph! - "European Tour 2023" - Support: Böse Fuchs

In 34 years, OOMPH! established as one of the most influential bands in Germany, which have inspired countless artists, including the genre giants RAMMSTEIN. With 'Richter Und Henker' the pioneers of the Neue Deutsche Härte prove that they remain at the top of the genre even after the first line-up change of their career. Now they are back with a new album, a new singer and line-up and a new tour, stopping also on Bochum.
Böse Fuchs

BÖSE FUCHS from Berlin opened the evening already 30 minutes before the announced starting date and played for about 50 minutes. The young band from Berlin released their first album 'Sinner' in 2023 and has already received positive feedback. The audience in Bochum liked the show and welcomed the four-piece with warm applause.
https://www.boesefuchs.berlin
Oomph!

The Neue Deutsche Härte pioneers OOMPH! are back with their 14th studio album 'Richter und Henker'! With their previous album and Napalm Records debut 'Ritual' (2019), they reached number 1 in the Official German Album Charts for the first time, after playing countless major national and international tours and festival shows in their over 30-year success story. OOMPH!'s biggest hit to date, 'Augen Auf!' (2004), is a timeless classic and is right in the ears of every rock fan. 'Richter und Henker' heralds a new era with the first line-up change in the band's history, which began in 1989: CR4P and FLUX are now on stage with the new singer DER SCHULZ. The new studio album was released on September 8th, 2023 and, as usual, was produced and recorded by the band themselves. 'Richter und Henker' is a clear statement that OOMPH! are back stronger than ever in a new formation and are continuing to pursue their path in a straight line - this is how the Lower Saxons present themselves musically at the highest level and lyrically, as usual, opinionated, biting and critical.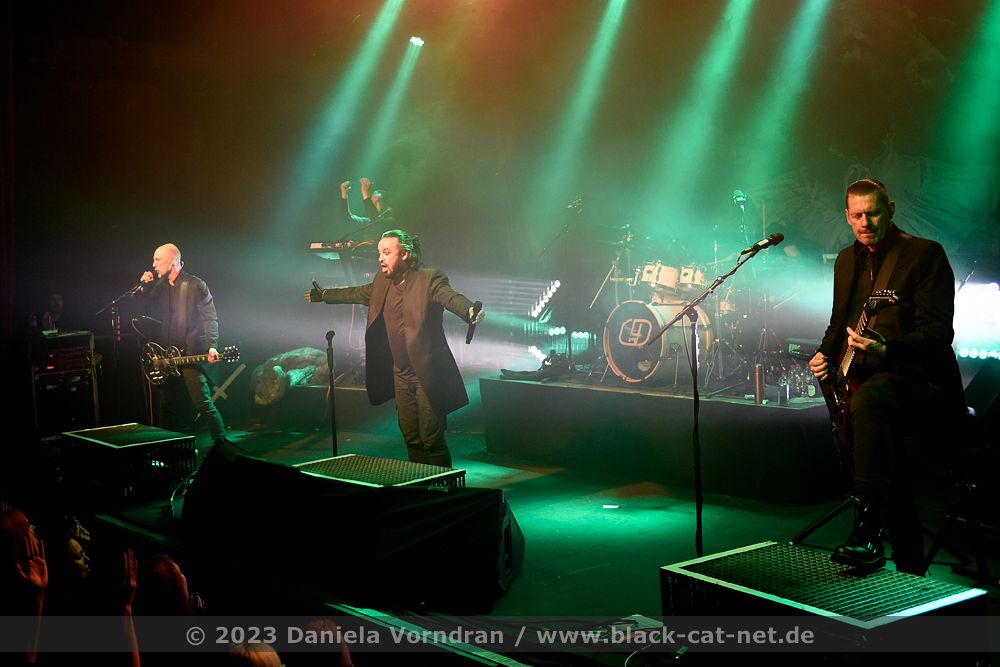 DER SCHULZ as new singer not only convinced at the album, but also live on stage at the crowded Zeche Bochum. Obviously, band as well as fans enjoyed the show, no matter if it were old or new songs presented. Please enjoy our pictures of the evening.
https://www.oomph.de
Setlist
01. Intro: Ein kleines bisschen Glück
02. Soll das Liebe sein?
03. Träumst Du
04. Richter und Henker
05. Labyrinth ('We Will Rock You' intro)
06. Bis der Spiegel zerbricht
07. Mein Herz
08. Nur ein Mensch
09. Sandmann
10. Nichts wird mehr Gut
11. Gekreuzigt
12. Jede Reise hat ein Ende
13. Brennende Liebe (Der Schulz solo on guitar)
14. Wem die Stunde schlägt
15. Kein Liebeslied
16. Gott ist ein Popstar
17. Schrei nur Schrei
18. Der neue Gott
19. Kleinstadtboy
20. Das weisse Licht
21. Mitten ins Herz
22. Augen auf!
---
23. Alles aus Liebe
24. Niemand
All pictures by Dani Vorndran (
http://www.vorndranphotography.com
/
http://www.facebook.com/blackcatnet
)
See also (all categories):